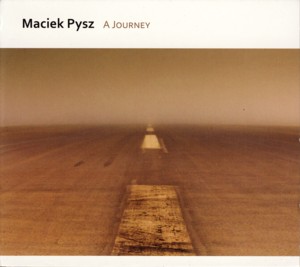 MACIEK PYSZ ~ A JOURNEY
DOT TIME 9044 (Barcode: 604043904426) ~ POLAND ~ Jazz-World Fusion
Recorded: 2014
Released: 2015
---
This is the second album by Polish (resident in London) guitarist / composer Maciek Pysz

Find albums by this artist

, recorded in a quartet setting with celebrated Italian bandoneónist / pianist Daniele di Bonavenura

Find albums by this artist

, Russian bassist Yuri Goloubev

Find albums by this artist

and Israeli drummer Asaf Sirkis

Find albums by this artist

(also resident in London). The album presents twelve compositions, ten of which are originals by Pysz, one is an original co-composed with Italian guitarist Gianluca Corona

Find albums by this artist

and one is composed by Ralph Towner

Find albums by this artist

. The music was recorded at the wonderful Artesuono Studio in Italy and engineered by Stefano Amerio

Find albums by this artist

with spectacular sound quality.

Pysz continues the path already established on his debut album, which presents him as a superb composer and a virtuoso guitar player, which in spite of his young age (born 1982) propels him directly to the very top of contemporary Jazz-World Fusion musicians. The beauty and depth of the compositions presented on this album as well as their extraordinary execution are simply marvelous.

The music, although obviously deeply personal, is at the same time completely universal, crossing melodic and rhythmic boundaries with ease and amalgamating the absolute best of the diverse Musical cultures from all over the world. Pysz has an ability to weave exquisite melodies, which in spite their sweetness manage to avoid completely even the slightest suspicion of cliché and kitsch. This is a very rare gift and he uses it exceptionally well.

The three musicians that accompany Pysz on his journey are all top professionals: di Bonavenura provides the perfect harmonic and melodic counterpart to the guitar parts and his melancholy and delicate lyricism are simply ideally suited to this music, Goloubev is one of the most sophisticated bassists in Europe, his sound is absolutely unique and his emotional intelligence is incomparable, and finally Sirkis, who grew "under my wings" at the early stages of his career, turned into one of the Master drummers of our times, playing very subtly on this album, but his sole solo spot here is such a classic of the trade that it should be studied by all drummers.

There is no doubt that this is an amazing album, full of musical beauty, aesthetic pleasure and extraordinary musicianship, an album that has only a very few equals among the numerous other albums released on a world scale. Blessed by the talent and the friendship of his fellow musicians Pysz gives the world a brilliant gift of music, which should leave not a soul untouched. Essential listening for Body and Soul!
---