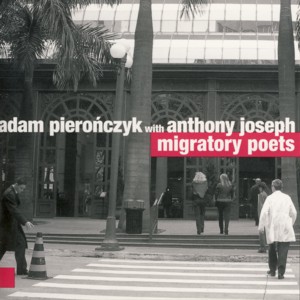 ADAM PIERONCZYK WITH ANTHONY JOSEPH ~ MIGRATORY POETS
FOR TUNE 0061 (Barcode: 5902768701562) ~ POLAND ~ Jazz & Poetry
Recorded: 2014
Released: 2015
---
This is a live recording by an international ensemble performing a Jazz & Poetry concert. The ensemble, led by veteran Polish Jazz saxophonist / composer Adam Pieronczyk

Find albums by this artist

, also includes Brazilian guitarist Nelson Veras

Find albums by this artist

, Polish bassist Robert Kubiszyn

Find albums by this artist

and American drummer John B. Arnold

Find albums by this artist

. They are joined by British (of Caribbean roots) poet Anthony Joseph

Find albums by this artist

, who recites his poems accompanied by the quartet. The album consists of seven tracks, six of which are poetry accompanied by music and one is an instrumental piece. All the music is original and was composed by Pieronczyk.

The albums brings on fond memories of times (mostly the 1960s) when Jazz & Poetry concerts were a common happening, both in Britain and in Poland, producing some of the most adventurous and aesthetically challenging music at the time. Since the sub-genre is quite a rarity today, this album is a welcome reminder of this magnificent Art form.

The overall performances on this album are all very good, with Pieronczyk playing as usual with great fluidity and taste. The rhythm section produces a steady groove as a background to the poetry recitation and the guitar and saxophone solos are intertwined between the stanzas or after the recitation is over.

Pieronczyk, although perfectly capable of Free Style improvisation, keeps a very calm profile here, playing mostly very lyrically and melodically, suitable Joseph´s poetry, which is mostly more associative than clear-cut thematically, full of exotic smells, tastes and panoramas.

Overall this is a beautiful trip of poetic dreams engulfed in lyrical music, that make the listener forget his whereabouts and take him on a dreamy trip to a far away place. Definitely worth investigating!
---