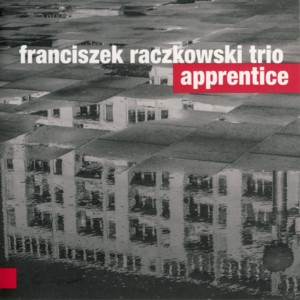 FRANCISZEK RACZKOWSKI TRIO ~ APPRENTICE
FOR TUNE 0066 (Barcode: 5902768701722) ~ POLAND ~ Jazz
Recorded: 2015
Released: 2015
---
This is the debut album by Polish Jazz pianist / composer Franciszek Raczkowski

Find albums by this artist

, recorded in a classic piano trio setting with bassist Pawel Wszolek

Find albums by this artist

and drummer Piotr Budniak

Find albums by this artist

. It presents seven original compositions, all by Raczkowski.

As the title suggests, Raczkowski is still at the very early stage of his career and is searching for his personal language, both as a player and a composer. His music is floating somewhere between mainstream Jazz and more ambitious explorations of the melodic and harmonic spheres, quite diverse and obviously still uncertain as to the final outcome. As a result the album is somewhat uneven, with some of the pieces being very interesting and others significantly less so. Although the music sounds very melodic, there are but a few clear melodic themes to which the listener can cling to or follow. The rest sounds just as fragmented statements, hold together by the framework of a tune, but not really making sense musically.

The music is very well performed, although Raczkowski does not display a wide dynamic range in his performances, which is splendidly picked up by the rhythm section, which does a wonderful job here. Wszolek keeps the tunes together bravely, even when the music seems to disintegrate, and Budniak keeps it alive with his delicate but masterly strokes.

After repeated listening to this album I could not honestly make up my mind if it presents a pianist / composer of great hope, as some of the statements I read about it claim. The comparisons to Keith Jarrett

Find albums by this artist

are pretty far fetched and might prove more damaging than constructive. I´ll have to wait patiently for the next album to see if Raczkowski is the "next" big thing on the Polish scene. In the meantime this album surely deserves to be listened to and as a debut it is altogether quite nice.
---