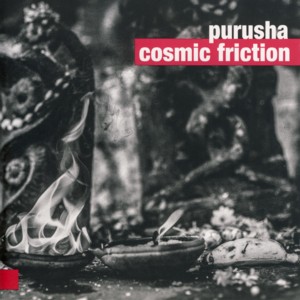 PURUSHA ~ COSMIC FRICTION
FOR TUNE 0067 (Barcode: 5902768701685) ~ POLAND ~ Jazz
Recorded: 2014
Released: 2015
---
This is the debut album by Polish Jazz trio Purusha

Find albums by this artist

, which comprises of saxophonist Pawel Postaremczak

Find albums by this artist

, bassist Wojciech Traczyk

Find albums by this artist

and drummer Pawel Szpura

Find albums by this artist

, all three known to Polish Jazz followers as members of the large ensembles led by Waclaw Zimpel

Find albums by this artist

(Hera

Find albums by this artist

and others). The album presents six original pieces, four of which were composed by Traczyk and two are co-credited to all three members of the trio.

The music of Purusha is a "classic" Free Jazz venture, which is its biggest drawback. Free Jazz exploded in the mid 1960s and this music sounds almost exactly as if recorded at that time, i.e. about 50 years ago. With all due respect to the cradle of Free Jazz, Albert Ayler

Find albums by this artist

and everything else, the clock keeps ticking. This of course might bring on reflections as to the possible path of Free Jazz in general, which may lead to a conclusion that Free Jazz only truly existed for a brief moment in the 1960s and everything done in that idiom since is simply ripples of that Big Bang?

But aside from the basic problem of being sort of "outdated", the music of Purusha is quite excellent within the boundaries of the Free Jazz idiom. Dominated by the saxophone, as usual in saxophone trios, it explores the various stages of expression between fury and tranquility, exemplifies the group interplay and allows for personal displays of instrumental ability, which are all top notch.

Postaremczak is obviously a highly talented soloist and his approach to the tenor saxophone is very personal and unique. In his hands the saxophone turns into many different instruments, often sounding exotic, weird and wonderful, which of course is very unusual. The rhythm section stands shoulder to shoulder with Postaremczak, both expanding and complimenting his journeys with obvious empathy and spirit of shared goal.

Overall this is a very good Free Jazz album for diehard fans of the genre, which although does not innovate, keeps the tradition and legacy alive and kicking. Definitely worth investigation!
---