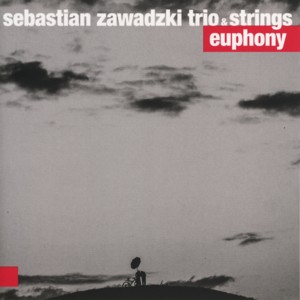 SEBASTIAN ZAWADZKI TRIO & STRINGS ~ EUPHONY
FOR TUNE 0077 (Barcode: 5902768701814) ~ POLAND ~ Jazz-Classical Fusion
Recorded: 2014
Released: 2015
---
This is the second album released on For Tune

Find albums on this label

Records by the Polish Jazz pianist / composer Sebastian Zawadzki

Find albums by this artist

, who in spite of his young age has already quite an impressive portfolio of achievements to his credit, which includes several albums and notable soundtracks of Polish movies. Zawadzki, who currently resides in Copenhagen, like numerous other young Polish Jazz musicians, who studied there and decided to settle in Denmark, recorded this album at the Danish Royal Academy of Music with an international team of musicians. It features his piano trio with Swedish bassist Johannes Vaht

Find albums by this artist

and Danish drummer Morten Lund

Find albums by this artist

and a string quartet comprising of musicians from different countries. The album presents twelve original compositions, all by Zawadzki, which encompass solo piano, trio, string quartet and septet (trio & strings) lineups.

The music is beautifully melodic, romantic and lyrical, smoothly amalgamating Jazz and Classical elements with taste and elegance. Although this kind of music often borders on muzak or schmaltz, Zawadzki manages to avoid crossing the line and keeps the music ambitious and accessible at the same time. The idea of using different instrumental lineups saves this album from sounding somewhat monotonous, which is always a danger. Of course some listeners might find it too "pretty", but honestly serene, harmonious, well composed and beautifully played music is always a blissful aesthetic experience.

It is interesting to compare this album with his previous For Tune release ("Luminescence

Find albums with this title

"), which was a solo piano outing recorded over two years earlier. Zawadzki made quite a leap forward with his music, as evident on this new album, and learned to avoid many of the tribulations present on the earlier recording, which is commendable.

This album is of course a complete anomaly in the For Tune catalog, a proof of the label´s continuous search for new areas where good music thrives, which is greatly appreciated.
---