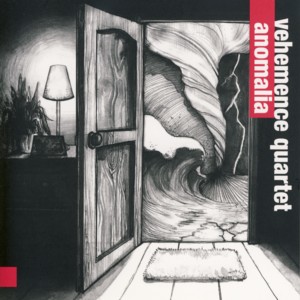 VEHEMENCE QUARTET ~ ANOMALIA
FOR TUNE 0078 (Barcode: 5902768701791) ~ POLAND ~ Jazz
Recorded: 2015
Released: 2015
---
This is the debut album by a Polish Jazz ensemble called Vehemence Quartet

Find albums by this artist

, which recently managed to draw a lot of attention on the local scene by winning a couple of prestigious competitions. The ensemble comprises of young and highly talented musicians, who have been active in the last few years and recorded assorted albums over time: saxophonists Wojciech Lichtanski

Find albums by this artist

and Mateusz Sliwa

Find albums by this artist

, bassist Alan Wykpisz

Find albums by this artist

and drummer Szymon Madej

Find albums by this artist

. I had the privilege of hearing the group live just a few weeks ago. The album presents six compositions, five of which are originals (three by Lichtanski and two by Sliwa) and the remaining one is a Wayne Shorter

Find albums by this artist

standard.

The unusual double-saxophone front line of the quartet creates immediately an unusual sound effect, which turns out to be working in their favor. The wonderful harmonies achieved by the alto and tenor saxophones are a true revelation. In reality the quartet works shifting between a double saxophone trio and a quartet, which offers a much wider range of possibilities. Both the individual performances and the collective interplays work like a dream, being evidently highly professional and inspired.

The original compositions are all first-rate modern Jazz pieces, which combine the Polish Jazz "streak" of melancholy and lyricism with well developed rhythmic layers, resulting in a most enjoyable and at the same intellectually challenging feast for the ears. Even the interpretation of the standard is original and innovative, which happens rather rarely these days.

Vehemence Quartet is a "classic" example of the young Polish Jazz scene, which boasts with talent and creativity, combining the modern Jazz tradition with contemporary developments, freedom of expression and the drive to push the music forward into terra incognita, a drive that is rarely present these days anywhere else beyond the borders of Poland.

Overall this is a very strong debut effort, worth of respect and admiration, and heartwarming considering the future possibilities it holds. Wholeheartedly recommended!
---