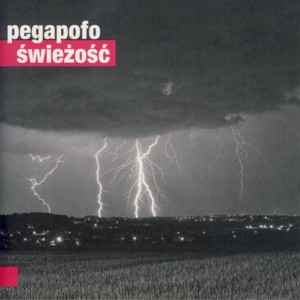 PEGAPOFO ~ SWIEZOSC
FOR TUNE 0053 (Barcode: 5902768701609) ~ POLAND ~ Jazz
Recorded: 2013
Released: 2015
---
This is the debut album by young Polish Jazz quartet Pegapofo

Find albums by this artist

, which consists of saxophonist Slawomir Pezda

Find albums by this artist

, pianist Mateusz Gaweda

Find albums by this artist

, bassist Piotr Poludniak

Find albums by this artist

and drummer Dawid Fortuna

Find albums by this artist

. It presents six original compositions (the title track appears in two versions), five of which were composed by Gaweda and one is a group composition by all quartet members.

From the first moment this album starts to play it becomes immediately obvious that this is the direction young Polish Jazz musicians should follow, as it portrays the essence of contemporary modern Polish Jazz at its best. With a miraculous balance of Freedom and discipline, cooperation and individualism, intensity and relaxation, this music simply overwhelms the listener from start to finish, driving hard into the heart of the Jazz idiom.

Pegapofo is an unusual conglomerate of talent and visionary, uncompromising approach to music. There are no limitations, no conventions, no boundaries, just a passion to play what is on their minds, and doing it totally. I was lucky to hear these amazing musicians live and the ultimate test of creating on the spur of the moment seems to be completely effortless to them, which is a true wonder. Despite their young age they are all quite experienced already and God only knows where they´ll travel next.

The music of Pegapofo is intense and engaging, and yet despite the obvious complexity and intellectual effort engaged in its comprehension, it sound completely "easy" and friendly, in complete contrast to its intrinsic nature. Perhaps they have found the magic formula of creating ambitious music, which is also accessible to the average listener. Whatever the reason, this phenomenal music simply wins the listener over mercilessly.

Albums of such quality are extremely rare and even on the Polish Jazz scene, which is completely overrun by talent, a release like that happens once or twice a year. Therefore my recommendation is to get hold of this gem ASAP, as it is like bittersweet chocolate, a taste of which stays in your mind forever. The album´s title means "freshness" in Polish and this is a breath of fresh air indeed. Absolutely brilliant!
---