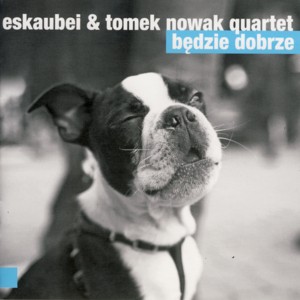 ESKAUBEI & TOMEK NOWAK QUARTET ~ BEDZIE DOBRZE
FOR TUNE 0058 (Barcode: 5902768701456) ~ POLAND ~ Jazz-Rap Fusion
Recorded: 2014
Released: 2015
---
This is a very interesting album, which amalgamates Rap and Jazz; a concept that has been attempted many times before, but rarely turned out to be a success. Polish rapper Bartlomiej Skubisz

Find albums by this artist

(a.k.a. Eskaubei

Find albums by this artist

) combines forces with a Jazz quartet led by trumpeter Tomek Nowak

Find albums by this artist

, which also includes keyboardist Kuba Pluzek

Find albums by this artist

, bassist Alan Wykpisz

Find albums by this artist

and drummer Filip Mozul

Find albums by this artist

. A few guests appear on selected tracks. The album presents eleven original songs, all composed by Nowak (with the exception of one tune which includes music composed by Pluzek) and with lyrics by Eskaubei (with the exception of two song lyrics written by the a.m. guests). The album also includes the radio edit of the title song as a bonus track.

Rap and Jazz are seemingly two completely contrasting Art Forms. Rap focuses on the spoken word, which attempts to deliver a message, and which uses music as a background stimuli, mostly rhythmically, with the melody part being usually pretty limited, repetitive and ornamental rather than substantial. Jazz on the other hand is all about complex melodic and harmonic structures and unlimited improvisation. The Jazz & Poetry idiom successfully managed to combine spoken word and Jazz music since the 1950s but Rap & Jazz, as already mentioned above, has been much less consistent and successful in trying to present a contemporary artistic attempt of amalgamating spoken word and Jazz.

When analyzing a Rap & Jazz project, like the one here, I usually try to separate the contents into two separate planes and than estimate the level of correlation between them. In this case my feelings are as follows:

The Rap part, i.e. the strength of the lyrics and their delivery (sadly limited to Polish speaking audiences only) is cohesive, intelligent and moving. The subject matter touches upon many of the problems we all encounter in our lives, like social injustice, personal relationships, morality, hypocrisy of the media and the pitiful state of music industry. The delivery is emotional, clearly understandable and above all classy.

The music is also quite excellent: funky, melodic, uplifting and intelligent. The performances are excellent with Nowak´s trumpet delivering many scorching solos and Pluzek playing a beautiful soulful electric piano, like a true pro, also delivering several heartwarming solos. The rhythm section is the backbone of this music, keeping the beat and pushing the groove rolling. This music could have easily stand on its own (without the Rap on top), producing an excellent Funk-Groove-Soul-Jazz album.

But of course most importantly these two layers placed upon each other produce the best Polish Rap Jazz effort so far. This result is hardly accidental, in view of one of the album´s songs, in which Eskaubei tells about the deep influence of Miles Davis

Find albums by this artist

on his artistic creation. Overall this is a most enjoyable, aesthetically pleasing piece of music, which puts a smile on the listener´s face. Warmly recommended!
---