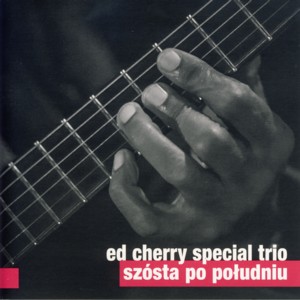 ED CHERRY SPECIAL TRIO ~ SZOSTA PO POLUDNIU
FOR TUNE 0064 (Barcode: 5902768701661) ~ USA ~ Jazz
Recorded: 2014
Released: 2015
---
This is a live recording at Warsaw´s club Szosta Po Poludniu (hence the album´s title) of a trio led by veteran American guitarist Ed Cherry

Find albums by this artist

with a Polish rhythm section: bassist Adam Kowalewski

Find albums by this artist

and drummer Arek Skolik

Find albums by this artist

. The trio performs six tunes, five of which are standards and one is a Pop song.

The music is a standard mainstream, completely unimaginative, uninspiring and honestly boring to tears. Although Cherry has an impressive musical history, his contributions in the last decades are not very impressive or noteworthy and his playing here unfortunately sounds like a third rate imitation of Wes Montgomery

Find albums by this artist

and is sadly embarrassing. The rhythm section, although quite professional, is not able to save this gig from disaster.

This kind of music is still played in clubs all over the US, but on the European scene it is utterly out of place in view of the creativity and excellence displayed by musicians in any European country today. One can only wonder why this gig was recorded and released in the first place and speculate about the inferiority complex some Europeans still suffer from, based on the assumption that anything in Jazz done by Afro-Americans is superior to European Jazz, which is simply not true for at least half a Century.

The usually excellent Polish For Tune

Find albums on this label

label, which released dozens of superb albums in the last few years, made a real blunder with this album. Hopefully this is not a sign of things to come.
---