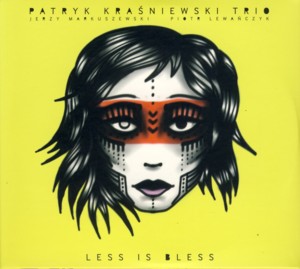 PATRYK KRASNIEWSKI ~ LESS IS BLESS
KARROT KOMMANDO 81 (Barcode: 5907577207854) ~ POLAND ~ Jazz
Recorded: 2015
Released: 2015
---
This is the debut album by young Polish keyboardist / composer Patryk Krasniewski

Find albums by this artist

, recorded in a trio format with bassist Piotr Lewanczyk

Find albums by this artist

(who also plays synthesizer parts) and drummer Jerzy Markuszewski

Find albums by this artist

. The album presents seven tunes, six of which are original compositions by Krasniewski and one is by Tomasz Wendt

Find albums by this artist

, a fellow student at the Wroclaw Music Academy. There is some confusion as to the album´s tracks, as there are seven tracks listed but only six present on the actual CD? Go figure!

Krasniewski seems to be a kind of prodigy according to his CV, which tells about prizes won at piano competitions, composition competitions etc. and involvement with many music genres from Pop to Classical Music from a very early age. This album is also a result of winning the yearly competition for Jazz debut recording offered by the Polish Institute of Music and Dance.

Of course this album tells only the story contained within, which sadly is pretty disappointing. The musicians are very skilled of course but the music seems to be completely lost in between genres. It is only very marginally Jazzy and is rooted somewhere in alternative Pop / Rock more than in Jazz. The classic piano trio parts have an obvious reference to Jazz, but the synthesizer parts manage to break the charm. Apparently Krasniewski is still looking for his true self as a composer and musician, and this album is just a step on the path of discovery.

There are some interesting moments of course, which disclose potential and talent. It´s a pity Krasniewski did not stick to the motto chosen for the album´s title, which might have saved the day. Without the synthesizer parts and less show off this might have been a much better album perhaps.

In any case this is an unusual album, which deserves merit for trying and hopefully is a forerunner of great things to come.
---