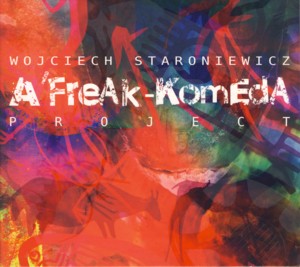 WOJCIECH STARONIEWICZ ~ A`FREAK-KOMEDA PROJECT
ALLEGRO 029 (Barcode: 5901157049292) ~ POLAND ~ Jazz-World Fusion
Recorded: 2015
Released: 2015
---
This is the second album by veteran Polish Jazz saxophonist / composer Wojciech Staroniewicz

Find albums by this artist

and his A`Freak-aN Project

Find albums by this artist

ensemble, which consists of a four saxophones front line: Staroniewicz on tenor, Przemek Dyakowski

Find albums by this artist

on tenor, Dariusz Herbasz

Find albums by this artist

on baritone and Marcin Janek

Find albums by this artist

on soprano. The extended rhythm section includes vibraphonist Dominik Bukowski

Find albums by this artist

, bassist Janusz Mackiewicz

Find albums by this artist

, drummer Roman Slefarski

Find albums by this artist

and percussionist Larry Okey Ugwu

Find albums by this artist

. As the title suggests, the album is dedicated to the music of Krzysztof Komeda

Find albums by this artist

and four of the six tracks presented here were composed by Komeda, and the remaining two are original composition by Staroniewicz, who also arranged all the music.

The African influences on this album, similarly to its predecessor, are relatively subtle and are wisely intertwined with the Jazz content, being felt primarily on the rhythmic plane and the overall atmosphere of the music. As a result this music is still very much mainstream Jazz, and not overtly a Jazz-World Fusion, although African spirit is present during the entire proceedings.

The arrangements of Komeda´s tunes work all very nicely, which on one hand proves that Komeda´s music is completely universal, and on the other that Staroniewicz and his colleagues do a great job here, lovingly and respectfully treating the creations of the great composer. The two originals by Staroniewicz ale also first rate tunes, fitting the overall atmosphere of the album.

The four saxophones section plays both superb ensemble arrangements and inspired individual solos, which are a true delight. Bukowski is also excellent, as usual, as is the solid rhythm section, which simply does a perfect job here. The level of instrumental work on this album is highly professional and full of joy and elegance.

Altogether this is a superb mainstream Jazz album, which features great music, intelligent arrangements and perfect execution. The almost impossible task of saying something innovative in relation to Komeda´s music was successfully achieved here as well. Therefore hopefully as many Jazz fans as possible will decide to check out this beautiful little gem and share its gift of music.

Once again I´d like to say that the graphic design of this album, which continues its predecessor´s idea, is among the most elegant and eye-catching album designs on the Polish Jazz market.
---