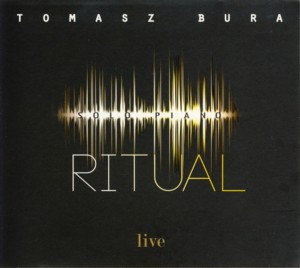 TOMASZ BURA ~ RITUAL
SJ 013 (Barcode: 5912596066160) ~ POLAND ~ Jazz-Classical Fusion
Recorded: 2015
Released: 2015
---
This is the debut album by young Polish (resident in London) Jazz pianist / composer Tomasz Bura

Find albums by this artist

. It was recorded "live in the studio" in a solo piano format and presents eight compositions, six of which are by Bura, one is a standard and one is by Piotr Schmidt

Find albums by this artist

(Bura plays keyboards in Schmidt´s ensembles).

The music is mostly lyrical and introvert, quite in contrast to what Bura played earlier on Schmidt´s albums, which were Fusion oriented. Here Bura definitely exposes his Classical influences as a performer and composer, with emphasis on romanticism and European melancholy. Although based on solid melodic themes, the music floats harmonically in different directions, often quite distantly from the initial ideas. Certain passages seem to be improvised on the spot, even though obviously well prepared in advance.

The entire approach seems to draw the listener into a semi-meditative trance, taking him on a journey of dreamy reflections. The more energetic improvisations serve as a wake up calls between the music induced dreams. This kind of music really requires complete attention and submission in order to be fully enjoyable.

Overall this is a surprising and inspiring debut album, which manages to overcome the obvious complicatedness of solo piano albums with flying colors. It certainly makes me curious to hear Bura in a classic acoustic piano trio format, which would be the ultimate test of his abilities. In the meantime let´s enjoy this eloquent "ritual´.
---