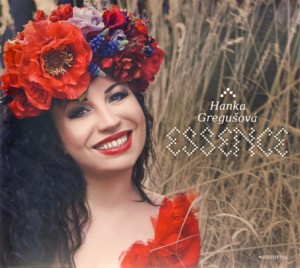 HANKA GREGUSOVA ~ ESSENCE
HEVHETIA 0082 (Barcode: 8588005257237) ~ SLOVAKIA ~ Jazz-World Fusion
Recorded: 2014
Released: 2014
---
This is the second album by the Slovak vocalist Hanka Gregusova

Find albums by this artist

, which presents a beautiful tribute to Slovak Folklore. It features eleven folk songs, sung in Slovak and wonderfully arranged by pianist Ondrej Krajnak

Find albums by this artist

, who leads a Jazz quartet with bassist Josef Feco

Find albums by this artist

, drummer Marian Sevcik

Find albums by this artist

and percussionist Stefan Bugala

Find albums by this artist

, which accompanies Gregusova on several tracks. On other tracks she is accompanied by a Folklore quartet, led by violinist Ivan Herak

Find albums by this artist

and featuring Josef Feco on cymbalon (also spelled cimbalom), Robert Boldi

Find albums by this artist

on viola and Marek Boldi

Find albums by this artist

on bass. One track features the combined forces of the Jazz and Folklore ensembles and the remaining tracks are more intimate trio, duet and solo vocal pieces. Several guest musicians also participate in the recording.

This album is a classic example of what Jazz-World Fusion is all about and how it can be achieved successfully. Both the World music and Jazz idioms are given a respectful and graceful treatment, and are mixed with elegance and charm. The Jazz arrangements are of course further distanced from the original folk songs than the Folklore treatment, but the overall atmosphere and continuity of the album achieve a wonderful journey based on the Slovak Folklore transposed into contemporary musical language.

Gregusova has a warm, well rounded voice which works both in the Jazz and the Folklore environment. Her phrasing on the Jazzy interpretations is simply superb and the solo vocal piece is deeply moving. Krajnak is a superb pianist and a most skillful arranger, which is obvious from what he achieved on this album, but all the musicians involved are also top notch. The recording quality and the sound of the album are also excellent.

Overall this is an aesthetically pleasing and musically successful cross genre project, which manages to be original, while respectfully presenting traditional folkloristic heritage. Definitely a model to be followed and enjoyed!
---