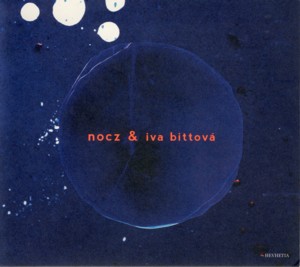 NOCZ & IVA BITTOVA ~ NOCZ & IVA BITTOVA
HEVHETIA 0086 (Barcode: 8588005257275) ~ CZECH REPUBLIC ~ Jazz
Recorded: 2014
Released: 2014
---
This is the second album by the Nocz

Find albums by this artist

quartet, which comprises of Norwegian trumpeter Didrik Ingvaldsen

Find albums by this artist

and Czech musicians: saxophonist Radim Hanousek

Find albums by this artist

, bassist Marian Friedl

Find albums by this artist

and drummer Vaclav Palka

Find albums by this artist

. On this album they are joined by Czech violinist / vocalist Iva Bittova

Find albums by this artist

, who participates on nine of the fourteen tracks present herein. All the music is original; Ingvaldsen composed eleven compositions, Hanousek two and one is a collective composition by the ensemble.

The music is a fiery version of modern Jazz mixed with free improvised passages and World Music influences. Some of the pieces are distinctly more melodic than others, but overall the music stays pretty well organized and structured while at the same time it is freely spirited and very imaginative. The level of the individual performances is superb from start to finish and the album truly presents unconventional contemporary Jazz at its best. The trumpet / saxophone front end of the quartet brings on fond memories of the early days of Avant-Garde Jazz, especially Don Cherry

Find albums by this artist

´s contributions, but the ambiance is undoubtedly updated to some extent. The rhythm section is also absolutely first class, keeping the pulse of the music flowing and at the same time contribution also some incredible solo parts.

The presence of Bittova adds a wonderful new dimension to the quartet´s sound and her vocalese passages are among the album´s highlights, although the entire proceedings deserve only the highest praise. This album is a great example of the maturity of European Jazz, which keeps evolving more dramatically than ever thanks to the removal of national borders, enabling the emergence of international ensembles, such as this one.

Overall this is an excellent modern Jazz album in every respect, surprising, moving and engaging, which will make every fan of nontrivial, advanced, open-minded Jazz extremely happy. Listening to this music is a true delight from start to finish!
---