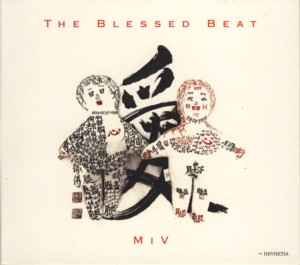 THE BLESSED BEAT ~ MIV
HEVHETIA 0108 (Barcode: 8588005257404) ~ SLOVAKIA ~ Jazz-Rock-World Fusion
Recorded: 2015
Released: 2015
---
This is the debut album by the international trio The Blessed Beat

Find albums by this artist

comprising of Slovak guitarist David Kollar

Find albums by this artist

, Italian drummer Simone Cavina

Find albums by this artist

and Italian trumpeter Paolo Raineri

Find albums by this artist

. It presents eight pieces, which are all improvised group compositions by the trio members. The album was composed and recorded in "real time", i.e. using the "what was played is what you hear" approach.

The concept behind the music was to create an imaginary soundtrack to an imaginary movie (well, not completely imaginary as at least two different film adaptations were made), based on the Charles Bukowski

Find albums by this artist

´s shocking story "The Copulating Mermaid Of Venice, CA". The MIV title stands for "Mermaid In Venice" and the titles of the eight pieces are quotations from the story´s actual text.

Imaginary soundtracks are of course not a new idea and contemporary musicians are quite fond of this specific sub-genre, which if being used in Progressive Rock, Alternative Rock and Electronic / Ambient music. This album however completely disregards genre boundaries and being completely improvised based on a very loose pre-defined ideas, it is quite different from most other projects of this kind.

In view of the fact that this music is performed by just three musicians, it is pretty amazing that they are able to produce effectively such tremendous "wall of sound" sonority. The music flows on several parallel layers of sound, produced by the distorted guitar, the powerful drums, the electronic textures and finally by the trumpet, which floats on top of everything. Since there is very limited melodic continuity, the music transmits an eerie sense of timelessness and floating dimensionless space, which pulls the listener deeper and deeper into the imaginary story evolving underneath.

The music displays an amazing, almost telepathic level of communication between the three musicians, each working on his musical plane and all together creating a common virtual sonic reality. Of course Improvised Music, like this one, has a great advantage by constantly changing depending on the listener´s emotional and intellectual input at a specific moment. Therefore albums like this propose theoretically an infinite number of experiences over time.

Overall this is a very powerful and ambitious debut effort, which is worth investigating by all adventurous and open-minded music lovers anywhere on this planet. Well done, Gentlemen!
---