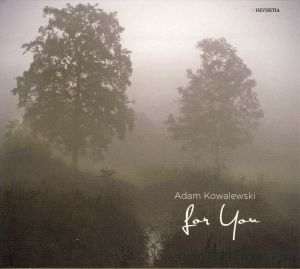 ADAM KOWALEWSKI ~ FOR YOU
HEVHETIA 0068 (Barcode: 8588005257053) ~ POLAND ~ Jazz
Recorded: 2011
Released: 2013
---
This is the debut album as a leader by Polish Jazz bassist / composer Adam Kowalewski

Find albums by this artist

, recorded in a duo setting with pianist Piotr Wylezol

Find albums by this artist

. It presents eight compositions, five of which are originals by Kowalewski, one is an original by Wylezol and the remaining two are standards. The album was released on the Slovak Hevhetia

Find albums on this label

label and was one of the first Polish Jazz albums released by that label, to be later followed up by numerous others.

Kowalewski recorded a plethora of albums as a sideman before he recorded this album, which means that he was already an established name on the local scene and the purpose of this album was obviously to present Kowalewski also as a composer apart from his abilities as a bass player. He cooperated with Wylezol earlier on playing bass on Wylezol´s debut piano trio album and therefore the choice of partners is hardly accidental.

The music presents a series of melodic tunes, well within the Jazz mainstream, which are played by the duo with a lot of space and mutual respect, allowing both musicians plenty of breathing space. As expected in such circumstances, the volume of the bass is higher up in the mix than normal, which allows the listener to hear exactly every note played by the instrument.

The problem with bass / piano albums is of course that the piano, which plays all the melody lines, "steals" the listener´s attention and only the most experienced listeners are able to split their attention between the two instruments on an equal basis. However, those able to listen to both instruments in parallel will discover a beautiful dialogue and a supportive collaboration, which is elegant and graceful.

Acoustic bass buffs will of course have a field day with this album, and considering the good sound quality of this recording, it is quite suitable to test top range Hi-Fi equipment for balanced bass / midrange response. Personally I´m looking forward for the next album by Kowalewski, to discover more of his melodic gems!
---