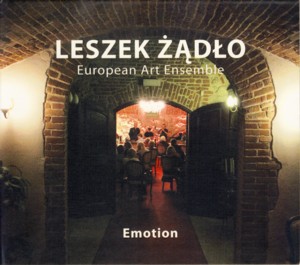 LESZEK ZADLO / EUROPEAN ART ENSEMBLE ~ EMOTION
JBBO ~ POLAND ~ Jazz
Recorded: 2014
Released: 2015
---
Polish (resident in Germany) Jazz saxophonist / composer / educator Leszek Zadlo

Find albums by this artist

(born 1945) is one of the most formidable representatives of the first post WWII generation of Polish Jazz musicians. He was also one of the first amongst the Polish Jazz musicians to leave his country, which he did in the mid-1960s, first to Austria and then to Germany. Of course he still keeps very strong ties with the Polish Jazz scene and plays there often, and his ensembles often include other Polish Jazz musicians. On a personal note, Leszek and I have been friends since many decades.

Musically Zadlo is a modernist, playing contemporary Jazz based mostly on the post John Coltrane

Find albums by this artist

tradition and his virtuosic abilities as a player place him in the top class of the Polish Jazz saxophonists, if not at the very top. His compositions are all classics of the Polish Jazz tradition, continuing, perhaps in the closest possible way, the path set by the compositions of Krzysztof Komeda

Find albums by this artist

.

This album is a live recording of a quintet led by Zadlo, which also features the German baritone saxophonist August-Wilhelm Scheer

Find albums by this artist

and Polish Jazz musicians: pianist Wojciech Groborz

Find albums by this artist

, bassist Tolek Lisiecki

Find albums by this artist

and drummer Wieslaw Jamiol

Find albums by this artist

. The quintet performs eight compositions, one of which is an original by Zadlo and seven are standards, three of them by John Coltrane and two by Wayne Shorter

Find albums by this artist

, i.e. classic modern Jazz material.

Obviously an informal session, this music is all about having a good time and playing some great music. For listeners unfamiliar with Zadlo´s abilities as a player this is a wonderful opportunity to hear a true Master at work. Scheer also plays some very fine solos. The rhythm section supports the two soloists sympathetically and solidly. Overall this is a classic live modern Jazz recording, which should appeal to all lovers of the genre. The Zadlo original, which is also the longest track on the album, is an absolute marvel.
---