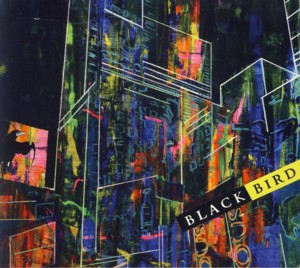 BLACKBIRD ~ BLACKBIRD
MULTIKULTI MPJ 012 (Barcode: 5907796319710) ~ POLAND ~ Jazz-Rock Fusion
Recorded: 2014
Released: 2015
---
This is the debut album by the young Polish Jazz quintet BlackBird

Find albums by this artist

, which comprises of trumpeter Pawel Surman

Find albums by this artist

, guitarist Michal Walczak

Find albums by this artist

, pianist Michal Rorat

Find albums by this artist

, bassist Bartek Bednarek

Find albums by this artist

and US drummer Frank Parker

Find albums by this artist

. Veteran vibraphonist Bernard Maseli

Find albums by this artist

appears as a guest artist on a couple of tracks. The album presents seven original compositions (one of which is repeated four times), four by Walczak, two by Rorat and one by Bednarek. The album was recorded live and has a very good sound quality.

The music is dominated by the sound of the electric guitar and immediately falls under the typical Fusion imagery. The combination of lead guitar and trumpet, which was favored by early Jazz-Rock / Fusion artists, like Larry Coryell

Find albums by this artist

and his Eleventh House

Find albums by this artist

ensemble for example, was pretty dormant lately and the attempt by BlackBird to bring it back is very effective. With the guitar / trumpet lead balanced by the acoustic piano and the electric bass and drums pulsating vigorously, the overall sound of the quintet floats somewhere between Fusion and the Scandinavian ECM

Find albums on this label

sound, which of course turns it immediately into a very likeable piece of music.

Once we have established that the album sounds great the question of course arises as to its musical contents, which is definitely not on the same level as the sound. The melodies are rather simplistic and a bit repetitive, which makes the album to sound like one continuous piece of music with very little diversity. Even the attempt to break the monotony by repeating the theme song four times does not help much. It´s not that the music is bad or anything, it just sort of stays in one place all the time. But of course this is only my personal opinion and others may find it completely misguided.

The personal performances by the quintet members are all quite adequate, although the guitar is definitely too loud and aggressive. For me Rorat delivers the most impressive solos, even if he is the most introvert and timid player herein. His piano strokes are a true joy throughout.

Overall this is a pleasant Fusion album, which many Fusion fans might find attractive and which sounds absolutely divine, but is hardly a brainer. Since it is a debut effort, things will probably improve with their next release, which I am impatiently waiting for already.
---