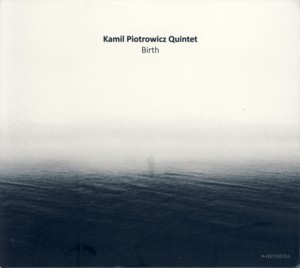 KAMIL PIOTROWICZ ~ BIRTH
HEVHETIA 0105 (Barcode: 8588005257572) ~ POLAND ~ Jazz
Recorded: 2015
Released: 2015
---
This is the debut album by Polish Jazz pianist / composer Kamil Piotrowicz

Find albums by this artist

recorded in a quintet setting with trumpeter Emil Miszk

Find albums by this artist

, saxophonist Piotr Checki

Find albums by this artist

, bassist Michal Bak

Find albums by this artist

and drummer Slawomir Koryzno

Find albums by this artist

. It presents nine original compositions (one appearing twice and another based on a Folk tune) by Piotrowicz and one standard.

The music is mostly quite conventional, well within the mainstream Jazz format, with occasional less constrained and more open moments. The compositions are however quite sophisticated and often feature several subsections with different rhythmic patterns and melodic themes, turning them into mini-suites. The overall level of these compositions is certainly well advanced, especially in view of the young age of the composer.

The arrangements feature the entire ensemble extensively, with the brass section up front, in charge of most of the solos, and the leader staying relatively in the background. It is pretty obvious that the emphasis of this album is in the following order of importance: compositions, arrangements, ensemble performance and only then individual solos. All the young members of the quintet have already some experience and appear on earlier recordings and they are the new generation that will dominate the Polish Jazz scene in the years to come. Judging by what they are able to do herein, things look pretty promising.

This is definitely a most impressive debut effort, which although does not break any new ground, certainly proves that there are still infinite opportunities within the established borders of Jazz. Congratulations are in order and of course I´m already waiting for the next endeavor.
---