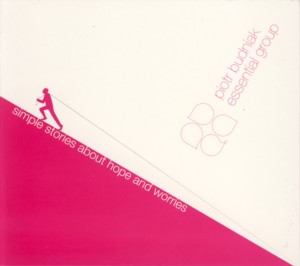 PIOTR BUDNIAK ESSENTIAL GROUP ~ SIMPLE STORIES ABOUT HOPE AND WORRIES
SOLITON 429 (Barcode: 5901571094298) ~ POLAND ~ Jazz
Recorded: 2014
Released: 2015
---
This is the debut album by young Polish Jazz drummer / composer Piotr Budniak

Find albums by this artist

and his sextet called Essential Group

Find albums by this artist

, which also includes trumpeter Pawel Poludniak

Find albums by this artist

, saxophonist Wojciech Lichtanski

Find albums by this artist

, guitarist Szymon Mika

Find albums by this artist

, pianist Kajetan Borowski

Find albums by this artist

and bassist Alan Wykpisz

Find albums by this artist

. Vocalist Michal Sobierajski

Find albums by this artist

guests on one track. The album presents seven original compositions, all by the leader, who also wrote the lyrics to the vocal piece.

Budniak, who returned to playing Jazz after a brief encounter with Rock-Folk as member of the ensemble LemON

Find albums by this artist

, which stirred quite a sensation on the local music scene, explores the Jazz tradition but maintains a fresh perspective, especially as a composer. The resulting music is a mixture of contemporary Jazz and Jazz-Rock Fusion, with a dash of Pop & Rock, performed efficiently and elegantly by the sextet. The emphasis on melody and lyricism creates an overall atmosphere of relaxation and lack of tension, which can be a two edged sword.

The young players, who are members of the sextet, are all upcoming heroes of the next generation of Polish Jazz, many of which have already shown their chops on other recording released in recent years. Mika is the most noticeable soloist by far and Wykpisz slowly emerges as a very promising bass player, who can literally hold a tune like an old pro. These two are definitely worth following with special attention. But all the other players, including the leader, are fine young talents, who will be heard and noticed in the future.

The focus of this album is obviously on the compositions, and rightly so, as Budniak has definitely a lot to say in that department. All of his compositions here are nicely crafted and a pleasure to listen to. The only drawback of this music is that it lacks originality and passion to explore uncharted territory, but perhaps it´s unfair to ask for boldness at this stage.

This is definitely an impressive debut effort, which should make all the participants proud of their achievements. I am looking forward to their sophomore album in order to follow their progress.
---