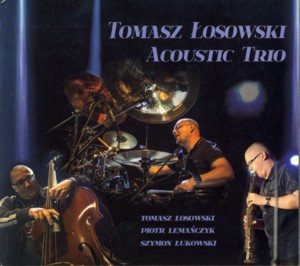 TOMASZ LOSOWSKI ~ ACOUSTIC TRIO
SOLITON 420 (Barcode: 5901571094205) ~ POLAND ~ Jazz
Recorded: 2015
Released: 2015
---
Veteran Polish drummer Tomasz Losowski

Find albums by this artist

is mostly acknowledged for his work in the Pop, Rock and Fusion fields, but this album is his first attempt to play straight Jazz. In order to do so he asked his old friend, the excellent bassist Piotr Lemanczyk

Find albums by this artist

and a young saxophonist Szymon Lukowski

Find albums by this artist

to join him and together they recorded eight original compositions, seven of which were composed by Lemanczyk and one by Lukowski.

The resulting acoustic trio delivers a set of excellent pieces, featuring the saxophone as the main soloing instrument, solidly supported by the rhythm section. Lemanczyk also plays several of his amazing bass solos, which are perfect as always, and the leader, avoiding any pyrotechnics and usually completely unnecessary drum eruptions, sticks to the basics and pushes the trio ahead rhythmically, always with taste and elegance.

Saxophone trios are often quite difficult and perilous undertakings, but in this case everything works as the proverbial "dream". The beautiful melodic themes, performed and improvised upon by the lyrical and clean sounding alto saxophone are a true pleasure to listen to. There is a lot of freedom, space and mutual respect among the trio members, which allows for personal expression as well as tight communication between the players.

Overall this is quite a surprisingly successful album, which manages to avoid all the traps of mainstream Jazz, being unpredictable, passionate and technically proficient. Definitely a piece of music well worth discovering and wholeheartedly recommended!
---