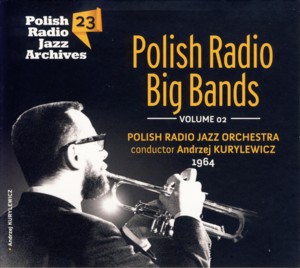 POLISH RADIO JAZZ ORCHESTRA / ANDRZEJ KURYLEWICZ ~ POLISH RADIO JAZZ ARCHIVES VOL.23
POLSKIE RADIO 1875 (Barcode: 5907812248758) ~ POLAND ~ Jazz
Recorded: 1964
Released: 2015
---
This is the twenty-third installment in the series of releases initiated by the Polish Radio, which presents archive Jazz recordings from the radio vaults. Radio recordings are always a fabulous source of remarkable material, and as far as Polish Jazz history is concerned, the Polish Radio, which was a state monopoly for 45 years, recorded over time a plethora of invaluable material, which apart from the albums released by the Polskie Nagrania record company (also a state monopoly), is the only available additional source of Polish Jazz recordings. For many years Polish Radio recorded concerts presented during Poland´s most important Jazz venues, including the annual Jazz Jamboree Festival and many other festivals as well.

The nineteen tracks collected here were recorded in 1964 by the Polish Radio Jazz Orchestra

Find albums by this artist

conducted by pianist / trumpeter / trombonist / composer Andrzej Kurylewicz

Find albums by this artist

. Sixteen tracks were recorded by the Polish Radio Studio during various sessions and three were recorded live during the seventh Jazz Jamboree Festival. The orchestra included at the time several well known musicians, like saxophonists Michal Urbaniak

Find albums by this artist

and Zbigniew Namyslowski

Find albums by this artist

, vibraphonist Jerzy Milian

Find albums by this artist

and others. The material is a mixture of Jazz standards (five tracks) and original compositions by Polish Jazz composers: Jan Ptaszyn Wroblewski

Find albums by this artist

(six tracks), Jerzy Milian (three tracks), Andrzej Trzaskowski (two tracks), Edward Dylag

Find albums by this artist

(two tracks) and Michal Urbaniak (one track).

The arrangements and orchestrations are firmly based in the American Big Band tradition, but the overall sound of the orchestra already shows the European approach and the majority of original compositions reflects the tendency to find a new path, which will take big format Jazz another step forward in the years to follow. Of course the individual performances, soloing and orchestral harmonization are all top-notch. In the historic perspective this is a superb document of the transition between the American influenced Jazz and the emancipated European Jazz that is about to erupt, including the big format Jazz environment. Trzaskowski, of course, was definitely one of the pioneers of this new movement, and his influence was crucial as far as the Polish Jazz is concerned, prompting and leading it to make the shift.

The beautifully restored sound quality is excellent and the warm ambience of the analog recording is a true joy. As usual with this series, which is very reasonably priced, I miss the presence of "in depth" liner notes / booklet, which should convey the circumstances at which this music was recorded and its importance to the development of Jazz in Poland. Nevertheless this is an absolutely essential piece of Jazz history which every Jazz fan will surely consider an absolute must.
---