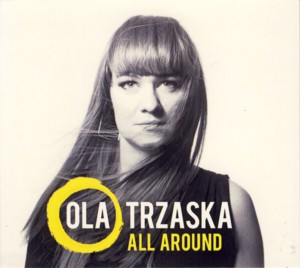 OLA TRZASKA ~ ALL AROUND
SJ 009 (Barcode: 5912596066085) ~ POLAND ~ Smooth Jazz
Recorded: 2013
Released: 2014
---
This is the debut album by Polish vocalist / flautist / songwriter Ola Trzaska

Find albums by this artist

, recorded by a sextet which also includes trumpeter Lukasz Korybalski

Find albums by this artist

, trombonist Michal Tomaszczyk

Find albums by this artist

, keyboardist Marcin Piekos

Find albums by this artist

, bassist Andrzej Swies

Find albums by this artist

and drummer Sebastian Kuchczynski

Find albums by this artist

. The album presents eight songs, all original by Trzaska (music and lyrics), six of which feature English and two Polish lyrics.

The music is a nice mixture of Pop / Soul / Funk & Groove, based on Trzaska´s melodic themes jazzed up by the arrangements and instrumental work, especially that of the brass section. Not a Jazz album per se, but close enough for comfort to turn the ear of a Jazz fan as well as those who have almost nothing to do with it.

Usually I completely condemn Polish singers singing in English, but in this case the result is acceptable, thanks to Trzaska´s phrasing and a skillful mix which keeps the vocals usually in unisono with instrumental backing, which mute the language "imperfections".

Trzaska has a limited vocal range and wisely utilizes her voice safely within her comfort zone, which of course becomes somewhat inadequate in the long range, making all the songs to sound a bit alike. But her singing is expressive and full of emotion, which overall saves the day. Combined with the truly inspired instrumental work by the players, the album is a fun to listen to. Swies deserves a special mention since his bass notes drive the entire album with an incredible funky groove. Tomaszczyk also plays a few beautiful trombone solos on the album, which are little gems.

This is definitely an impressive debut, presenting Trzaska as a gifted songwriter, vocalist and arranger, who will surely take part in the development of the Polish music scene in the years to come.
---