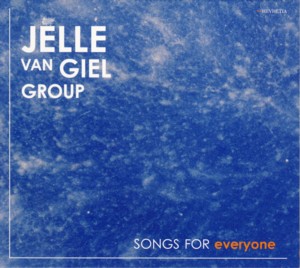 JELLE VAN GIEL GROUP ~ SONGS FOR EVERYONE
HEVHETIA 0098 (Barcode: 8588005257404) ~ BELGIUM ~ Jazz
Recorded: 2014
Released: 2015
---
This is the debut album by Belgian drummer / composer Jelle Van Giel

Find albums by this artist

and his group, which is a septet also including trumpeter Carlo Nardozza

Find albums by this artist

, saxophonists Steven Delannoye

Find albums by this artist

and Erik Bogaerts

Find albums by this artist

, pianist Bram Weijters

Find albums by this artist

, guitarist Tim Finoulst

Find albums by this artist

and bassist Janos Bruneel

Find albums by this artist

. The album presents eight original compositions, all by Van Giel, who is also in charge of the arrangements.

The music is a collection of melodic pieces, all well within the mainstream Jazz formula, nicely arranged for the group, skillfully utilizing the brass section and full of exciting solos by all participants. Although definitely on the easy side of the Jazz spectrum, this is a very well played collection of beautiful tunes, which is a great fun to listen to. The brass arrangements could have been much more adventurous of course as they mostly follow the American school dating from the Swing Days of the 1940s, but on the other hand they have a nice nostalgic tang to it

The individual contributions by all the participants are professional and skilful, with well crafted soloing and sympathetic delivery. However the overall atmosphere is a bit too relaxed, and lacks passion and excitement, as if everybody was afraid to take any risks. Such calculated approach always bears the risk of losing the attention of the listener after a few tunes. The album´s title might have been a bit more meaningful than Van Giel initially intended.

Overall this is a nice debut effort, which portrays Van Giel as a skillful composer and arranger, but offers little intellectual challenge to more advanced listeners. Fans of melodic, rounded and pleasurable Jazz will have a great deal of fun with this album. The second album "test" should be quite interesting in this case.
---