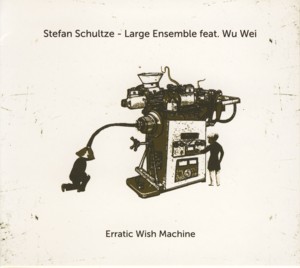 STEFAN SCHULTZE LARGE ENSEMBLE ~ ERRATIC WISH MACHINE
WHYPLAYJAZZ 017 (Barcode: 4050486926864) ~ GERMANY ~ Jazz
Recorded: 2014
Released: 2015
---
This is a very ambitious project by German pianist / composer Stefan Schultze

Find albums by this artist

, which occupied his mind for five years that passed since the release of the previous album with Large Ensemble

Find albums by this artist

, before it was finally recorded. Schultze, whose love of the big form Jazz is well documented, composed this seven-part suite for his Large Ensemble, which comprises of eighteen musicians and features a special guest, the Chinese sheng (mouth organ) player Wu Wei

Find albums by this artist

, who is the principal soloist.

The music is a diverse collection of cross-genre compositions, which float between contemporary Classical, Romanticism, Avant-Garde and Fusion, but somehow manage to present a coherent musical entity, which is both intricate and beautifully melodic. The wonderful orchestrations and the sound of the Large Ensemble are especially impressive and bring fond memories of such superb ensembles like the NDR Big Band

Find albums by this artist

, which of course is a great model to follow.

Although Wu Wei is an important contributor to this album, the music does not reflect many World Music elements per se. Nevertheless the Chinese instrument sounds perfectly at home with the Western instruments played by the ensemble and adds a valuable sound variety. This music is definitely quite different from what is being released as orchestral Jazz music today and deserves special attention just for being an attempt to search for new forms of expressions.

The album is very well recorded and each of the instruments can be clearly heard in the mix, which is also quite rare these days. Overall this is a very unusual album, which is definitely worth of the attention of connoisseurs searching non-trivial musical explorations. Schultze, on the other hand, deserves praise and encouragement for pursuing his dreams, which eventually result in such superb recordings as this one.
---