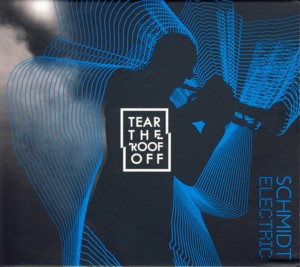 SCHMIDT ELECTRIC ~ TEAR THE ROOF OFF
SJ 012 (Barcode: 5912596066146) ~ POLAND ~ Jazz-Rock Fusion
Recorded: 2015
Released: 2015
---
Polish Jazz trumpeter / composer / bandleader Piotr Schmidt

Find albums by this artist

mangers to teleport smoothly between acoustic mainstream Jazz and electric Fusion, an ability he already demonstrated clearly by releasing several albums on his own label since 2000, which cover both subgenres. This time he expands his modus operandi to touch upon additional areas, which include smooth Jazz, Rap and Ambient, but manages to do so without compromising his integrity as a Jazz musician.

The album, which was recorded in a quartet setting, with keyboardist Tomasz Bura

Find albums by this artist

, bassist Michal Kapczuk

Find albums by this artist

and drummer Sebastian Kuchczynski

Find albums by this artist

, features also several guest artists, who appear on selected tracks, a couple of them from Britain, including guitarist Alex Hutchings

Find albums by this artist

. The eleven tracks on the album are all originals, five of which were composed by Schmidt, four by Bura, one is credited to Bura and the whole ensemble and one is by ambient / electronic keyboardist / composer Joanna Szymala

Find albums by this artist

, who also performs here.

The music is very diverse and constantly performs a chameleonic transformation, starting with a Rap track, moving into an electronic / ambient passage and continuing with a series of Jazz / Fusion tracks, ranging from lyrical ballads to energetic electric statements. Although this might sound a bit chaotic, in fact the music presents a coherent and consistent continuum. There are plenty of great melodies and catchy riffs, but the music is anything but trivial at any point.

The individual performances are all excellent; Schmidt is a very gifted trumpeter and his melodic ballads are simply heartbreaking, Bura is the great discovery of this album, playing a wide range of sounds, improvising elegantly and simply being there every time just when a chord or an arpeggio are needed to fill the space. The rhythm section is dynamic, melodic and incredibly supportive. Kapczuk plays some superb solos and Kuchczynski stays behind the players at all time, not trying to show off beyond exactly what is required of him. Hutchings also adds some several scorching solos, which ornament the overall sound of the band.

Schmidt juts might have found on this album the exact formula that suits his musical karma. Cross-genre, cross time, contemporary and melodically advanced, this music is a pleasure to listen to, without compromising even the sternest connoisseurs. Although some of Schmidt´s earlier attempts to find his way in the straightforward mainstream Jazz milieu were a bit shaky, this album finds him determined, mature and unmistakably doing his own thing. Beautifully done, my young friend; kudos!
---