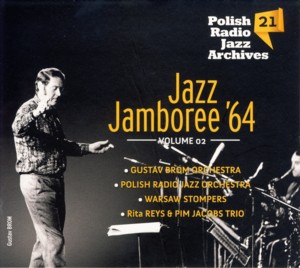 VARIOUS ARTISTS ~ POLISH RADIO JAZZ ARCHIVES VOL.21
POLSKIE RADIO 1873 (Barcode: 5907812248734) ~ POLAND ~ Jazz
Recorded: 1964
Released: 2015
---
This is the twenty-first installment in the series of releases initiated by the Polish Radio, which presents archive Jazz recordings from the radio vaults. Radio recordings are always a fabulous source of remarkable material, and as far as Polish Jazz history is concerned, the Polish Radio, which was a state monopoly for 45 years, recorded over time a plethora of invaluable material, which apart from the albums released by the Polskie Nagrania record company (also a state monopoly), is the only available additional source of Polish Jazz recordings. For many years Polish Radio recorded concerts presented during Poland´s most important Jazz venues, including the annual Jazz Jamboree Festival and many other festivals as well.

The seventeen tracks collected here were recorded during the seventh Jazz Jamboree Festival, which took place between October 24 and 26 1964 in Warsaw. This is second part of the Jazz Jamboree 1964 recordings. The music was performed by four different ensembles, which are: the Polish Radio Jazz Orchestra

Find albums by this artist

conducted by Andrzej Kurylewicz

Find albums by this artist

(four tracks), the Czechoslovak Gustav Brom Orchestra

Find albums by this artist

(five tracks), the Polish Traditional Jazz ensemble Warsaw Stompers

Find albums by this artist

(three tracks) and finally the Dutch singer Rita Reys

Find albums by this artist

accompanied by a trio led by her husband pianist Pim Jacobs

Find albums by this artist

with his brother Ruud Jacobs

Find albums by this artist

on bass and guitarist Wim Overgaauw

Find albums by this artist

(five tracks).

Most of the music consists of standards, but the Polish Radio Orchestra plays two, the Gustav Brom Orchestra four and the Warsaw Stompers one original composition. The music performed by the Gustav Brom Orchestra is by far the most interesting part of this album, and includes very advanced modern compositions, arrangements and individual performances.

The beautifully restored sound quality is excellent and the warm ambience of the analog recording is a true joy. As usual with this series, which is very reasonably priced, I miss the presence of "in depth" liner notes / booklet, which should convey the circumstances at which this music was recorded and its importance to the development of Jazz in Poland. Nevertheless this is an absolutely essential piece of Jazz history which every Jazz fan will surely consider an absolute must.
---