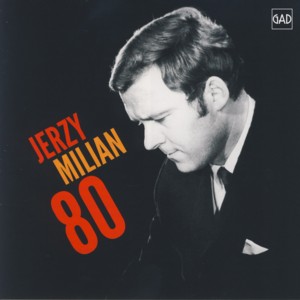 JERZY MILIAN ~ JERZY MILIAN 80
GAD 026 (Barcode: 5901549197341) ~ POLAND ~ Jazz
Recorded: 1956
- 2004
Released: 2015
---
Vibraphonist / composer / arranger / bandleader and one of the Godfathers of modern Polish Jazz, Jerzy Milian

Find albums by this artist

, celebrated his eightieth birthday in April 2015 and this limited birthday edition album is a celebration of his outstanding lifelong career, emphasizing his talents as a composer. The fourteen tracks recorded in Poland and abroad between 1956 and 2004, present original compositions by Milian performed in diverse settings ranging from small combos to Big Bands / Orchestras and showcasing his talents as composer, arranger and instrumentalist.

The music ranges from Jazz compositions to popular music pieces, all elegantly arranged and performed, and tells the story of Milian´s life as a continuous soundtrack, which is a great fun to listen to and a tribute to his creativity. Since nine of the tracks on this album are previously unreleased, this is also a significant addition to the available discography of Milian´s work and a historical document of the development of Polish Jazz.

Additionally, this is also a superb introduction to Milian´s work for people who are not yet familiar with his music and therefore a wonderful window to his world. Wholeheartedly recommended!
---