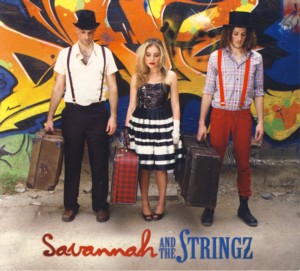 SAVANNAH ~ SAVANNAH AND THE STRINGZ
NOT ON LABEL ~ ISRAEL ~ Pop & Rock
Recorded: 2012
Released: 2012
---
This is the second album by Israeli (born in Australia) singer / songwriter / vocalist / multi-instrumentalist Savannah

Find albums by this artist

(a.k.a. Savannah Zwi-Navon

Find albums by this artist

), and the first recording with her trio Stringz

Find albums by this artist

, which features violinist Tomer Einat

Find albums by this artist

and bassist Noam Elron

Find albums by this artist

. The album presents ten songs, seven of which are her originals, one is a folk tune and two are Pop standards.

This album finds this talented Lady combining several quite different musical genres and styles, all spiced with her charm and theatrical performance. We are transported back in time to the swinging Berlin with its many cabarets and less reputable places of entertainment, or the Parisian Cafes where such act would be perfectly suiting. The arrangements for piano and strings (sorry stringz) are sexy and clever and the listener does not feel cheated as these three instruments simply sound perfect for this job.

Savannah has a warm voice, and she uses it wisely. Obviously not a virtuoso singer, she stays well within her comfortable range and delivers the lyrics in a highly melodramatic manner, wisely not overdoing it. Her true forte seems to be the songwriting, as the original material on this album is superbly crafted. There is of course a bit too much drama and the album can be hardly considered as fun to listen to, but on the other hand there is so much great music and originality, that the gloomy atmosphere can be forgotten (or forgiven). The Australian accent is of course a different story ;)

The Stringz are both doing a fabulous job here, playing with a lot of feeling and technical proficiency, and considering these completely unconventional circumstances, they really cook. It´s difficult to imagine that Savannah could have found a better pair of soul brothers to embark upon this journey than these two. Sadly they do open their mouths too; oh well you just can´t win them all.

Overall this is a highly original, interesting, intelligent and entertaining album and live act, which is definitely worth checking out. Savannah does her own thing, which is perhaps even more important than her music, in times swarmed with mindless replication and robotic noise. They say she also sings Jazz… well hopefully she is not another dreadful Diana Krall clone. Stick to your own thing girl! And where is that next Stringz album?
---