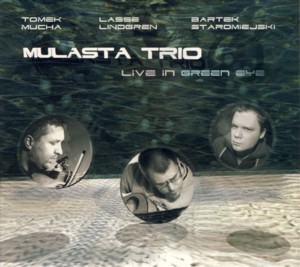 MULASTA TRIO ~ LIVE IN GREEN EYE
BCD 23 (Barcode: 5906881885222) ~ POLAND ~ Jazz
Recorded: 2007
Released: 2008
---
This is a live recording by the Mulasta Trio

Find albums by this artist

, which consists of Polish Jazz violinist Tomasz Mucha

Find albums by this artist

, Finnish bassist Lasse Lindgren

Find albums by this artist

and Polish drummer Bartek Staromiejski

Find albums by this artist

. They perform seven compositions, four of which are originals by Mucha, one is a Finnish tune, one is a standard and finally the last one is a folk tune arranged by Lindgren.

The music is performed almost completely acoustically, which is very different from most contemporary Jazz violin recordings, which sound mostly electric. This acoustic approach is reminiscent of early Jazz violin recordings before violin was almost completely drawn into Fusion. Although improvised and swinging, the overall result is not exactly within the mainstream Jazz boundaries and includes also World Music elements. The atmosphere is very relaxed and the musicians obviously have a great fun playing together.

The essence of the music is based on the intimate exchanges between the violin and the bass, with both instruments playing alongside constantly. This wonderful dialogue is the absolute highlight of this recording. Both Mucha and Lindgren perform with virtuosity and finesse, which definitely deserves to be discovered. Staromiejski respectfully accompanies the two soloists trying not to interfere with their performances and does a perfect job in that respect. Mucha´s compositions are all rounded and wonderfully lyrical, fitting elegantly this setting.

Overall this is a beautiful, graceful and delicate album, which is sadly little known and surely deserves a wider exposure. Although the Polish Jazz violin already holds a proud position in that music´s history, this acoustic variety surely deserves also to be a part of that heritage. I´d surely love to hear more of this kind of music in the future.
---