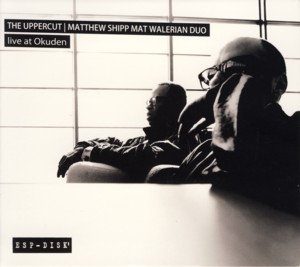 UPPERCUT: MATHEW SHIPP / MAT WALERIAN DUO ~ LIVE AT OKUDEN
ESP 5007 (Barcode: 825481500722) ~ POLAND ~ Jazz
Recorded: 2012
Released: 2015
---
This wonderful album presents a live recording by a duo comprising of American pianist / composer Matthew Shipp

Find albums by this artist

, one of the most important contemporary American Avant-Garde activists, with multi-instrumentalist / composer Mat Walerian

Find albums by this artist

, a Polish musician resident in the US, who plays saxophone, clarinet and flute. The album was released on the legendary NY label ESP

Find albums on this label

, one of the most important independent record labels in the history of Avant-Garde Jazz and Rock, founded in 1963 by a Jewish lawyer Bernard Stollman

Find albums by this artist

(who sadly died just three weeks ago) and its catalogue included some of the most important music recorded in America (and also sporadically in Europe) in the 1960s. The label stopped its activity in 1975 and was dormant for thirty years, resuming activity in 2005 and since releasing many new recordings, such as this one.

This album presents ten compositions, six of which were composed by Walerian and four co-composed by Shipp and Walerian. The music is incredibly fresh and inviting, and although it is definitely free spirited and highly improvised, it also offers a strong melodic content, which makes it accessible to a much wider audiences than the usual Avant-Garde recordings, which can be self-centered and sound cold to listeners. This album is a rare and beautiful example of Avant-Garde music, which transfers well to record, retaining its spirit and intimacy, which is often present live but gets lost when turned into a record.

There is a rare and almost telepathic dialogue between the two musicians, exchanging phrases, notes and rhythmic gestures between them, as if those were rehearsed or preconceived, which is pretty rare. Both musicians play gently and cooperatively, avoiding any power struggles which often characterize duo recordings. This music is fully harmonious and inspirational, a true example of the "Art of the Duo" idea.

The musical qualities of Shipp are of course no secret to the follower of his outstanding career, but Walerian emerges triumphantly as a virtuoso performer, with original ideas and a complete command of his instruments. His playing on this album immediately earns him respect and admiration from connoisseurs of the genre and of course anticipation for his new projects.

Overall this is one of the best Avant-Garde albums I listened to lately, which deserves all the praise it can get and hopefully will reach as many open minded listeners as possible. An absolute delight!
---