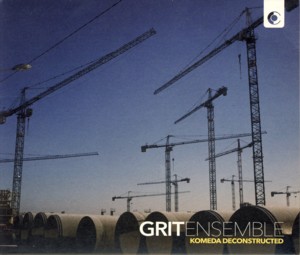 GRIT ENSEMBLE ~ KOMEDA DECONSTRUCTED
RECART 0015 (Barcode: 5908285287145) ~ POLAND ~ Jazz
Recorded: 2014
Released: 2015
---
This is a debut album by young Polish Jazz septet called Grit Ensemble

Find albums by this artist

, led by bassist Patryk Pilasiewicz

Find albums by this artist

, with trumpeter Kacper Grzanka

Find albums by this artist

, saxophonist Maciej Sokolowski

Find albums by this artist

, pianist Krzysztof Dys

Find albums by this artist

(Jakub Krolikowski

Find albums by this artist

on one track), vibraphonist Piotr Rakowski

Find albums by this artist

, guitarist Piotr Scholz

Find albums by this artist

and drummer Andrzej Konieczny

Find albums by this artist

. As the title suggests, the music played on this album was composed entirely by the Godfather of Polish Jazz, pianist / composer Krzysztof Komeda

Find albums by this artist

and includes compositions which were originally written as film scores, Komeda´s most famous contribution to Polish Culture, beyond the strict Jazz milieu. The album presents nine tracks, seven of which are the ensemble´s interpretations of Komeda´s compositions and the additional two are remixes of two of the tracks.

Any attempt to deal with Komeda´s music is a priori a perilous enterprise for numerous reasons, the most obvious one being that it has been attempted previously on hundreds of albums by thousands of Polish and foreign musicians, including the best ones out there. Therefore being original and saying something innovative about the music of Komeda is almost impossible today and works only in truly exceptional cases. When combined with a pretentious album title like in this case, the album is controversial, at least to me, before listening to even one note of its music.

Sadly listening to the music justified my reservations, at least to some degree. I think I am familiar with the term "deconstruction" in the musical sense, and honestly there is not a trace of that process in the music presented on this album. In fact in most cases the original melody is stated quite straightforwardly without even much improvisation and the following free form passages seem hardly related to the themes, definitely not being deconstructions, not to mention the remixes, which simply make no sense to me at all. Nevertheless the music presented on this album has its merits and is definitely worth listening to; it simply does not fulfill what is promised on the album´s cover.

Of course the musicians involved in this project are all excellent performers, and do altogether a splendid job. Dys, who is one of the most impressive upcoming performers on the local scene, demonstrates his exceptional abilities all along, with the rest of the crew following suit. Perhaps taking on Komeda´s music was simply "a bridge too far" in this case? It takes a certain maturity, life´s experience and perspective to handle such lofty tasks.

I imagine that the same ensemble playing original compositions by its members might be able to produce a very impressive result, as there is certainly a lot of talent and passion involved. Therefore I do look forward to hear more musical projects by this ensemble in the future.
---