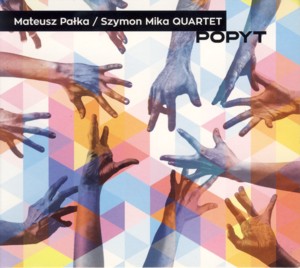 MATEUSZ PALKA / SZYMON MIKA ~ POPYT
SJ 011 ~ POLAND ~ Jazz
Recorded: 2014
Released: 2015
---
This is the debut album by the young Polish Jazz quartet co led by pianist Mateusz Palka

Find albums by this artist

and guitarist Szymon Mika

Find albums by this artist

, with bassist Alan Wykpisz

Find albums by this artist

and drummer Grzegorz Maslowski

Find albums by this artist

. It presents six original compositions, four by Palka and two by Mika, and one standard.

Stylistically the quartet seems to continue the mainstream Jazz tradition, which crystallized in America in the 1960s and was captured on classic Jazz recordings by labels like Blue Note and numerous others. The album´s ambience and overall sound character is very similar to what was created in that milieu at that period of time and automatically brings on waves of nostalgia. The excellent original compositions, all very melodic, clearly structured and swinging rhythmically are ideally suited for creating that kind musical environment. Personally I think that a more free approach, which the ensemble utilizes on the last track on the album, should be a pointer to their future path, especially in view of how well they manage to handle it here.

The individual performances are all superbly executed, way beyond what one might expect form such young musicians, but in today´s reality that fact is almost universally true; musicians mature faster and reach their peak as performers much earlier in their careers. The quartet works very well as a unit surprisingly because these four young musicians are so different from each other. Palka is obviously the instigator of many ideas and wishes to say as much as possible in a given time frame, whereas Mika is an island of tranquility and a king of "cool", playing exactly what is needed at a given moment, with obvious flair and beautiful "old fashioned" tone, which sounds simply marvelous. Wykpisz is a brilliant bassist, with incredible feel for time and melody, and keeps the entire ensemble in check, which allows Maslowski to be all over the place and fill the blanks (or rather intervals) with his pulsating ornamentations.

This is definitely a solid and promising debut album by musicians who are surely going places on the Polish Jazz scene and beyond in years to come. Well done indeed!
---