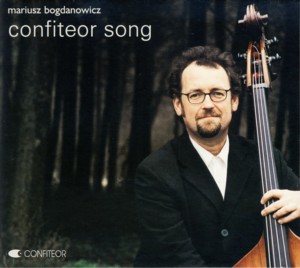 MARIUSZ BOGDANOWICZ ~ CONFITEOR SONG
CONFITEOR 002 ~ POLAND ~ Jazz
Recorded: 2000
Released: 2001
---
This is the debut album as a leader on his own record label by Polish bassist / composer Mariusz Bogdanowicz

Find albums by this artist

, recorded with a formidable team of Polish Jazz musicians, which includes saxophonists Zbigniew Namyslowski

Find albums by this artist

and Adam Wendt

Find albums by this artist

, US born guitarist Brandon Furman

Find albums by this artist

, accordionist Andrzej Jagodzinski

Find albums by this artist

, pianist Krzysztof Herdzin

Find albums by this artist

and drummer Piotr Biskupski

Find albums by this artist

. The album presents eight original compositions by Bogdanowicz and one arrangement of a folk tune.

Considering the level of the musicians involved there are no surprises here; the performances by all the participants are spotless, professional and truly excellent. The young Herdzin, who was a member of the ensemble led by Namyslowski at the time, plays some great piano lines. It is very interesting to hear Namyslowski play music he did not compose; his performances here are truly inspired. Furman plays beautiful guitar lines, full of lyricism and technically brilliant guitar tricks. Jagodzinski, who normally plays piano of course, adds some nice accordion touches. Wendt adds also some fiery saxophone solos and finally Biskupski on drums plays solidly and respectfully alongside Bogdanowicz, who plays several beautiful bass solos, creating together a perfect mainstream Jazz rhythm section.

But the focus of this album is of course on the superb tunes composed by the leader. Melodic and gorgeously lyrical, these compositions are all sensual and intelligent, serving as perfect vehicles for the musicians to spread their wings. These tunes are all as good as any Jazz standard and deserve to be listened to repeatedly.

Overall this is a perfect mainstream Jazz album, which combines great music with perfect and inspired execution, a model for all excellent Jazz album ever created, becoming an instant classic Polish Jazz album in all respects.
---