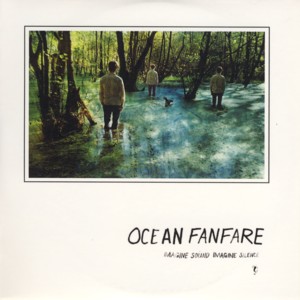 OCEAN FANFARE ~ IMAGINE SOUND IMAGINE SILENCE
BAREFOOT 040 (Barcode: 5707471039175) ~ POLAND ~ Jazz
Recorded: 2013
Released: 2015
---
This is the debut album by the International Jazz Quartet Ocean Fanfare

Find albums by this artist

, which consists of Polish trumpeter Tomasz Dabrowski

Find albums by this artist

, Danish saxophonist Sven Dam Meinild

Find albums by this artist

, Danish bassist Richard Andersson

Find albums by this artist

and American drummer Tyshawn Sorey

Find albums by this artist

. The album presents nine original compositions, six of which were composed by Dabrowski and three by Meinild.

The quartet plays modern Jazz, which is clearly based on the tradition but explores modern approach to both the melodic / harmonic contents and the rhythmic timekeeping. The trumpet and saxophone are much tighter together here than on most other quartet recordings of this type, playing many unisono parts together, which sound simply stunning. Dabrowski, who has a long series of albums under his arm already, is of course brilliant throughout, but Meinild keeps closely at his toes, displaying virtuosic control of his instrument and excellent improvisation quality. As it often happens in today´s modern Jazz, it is the bass player who keeps the time rather than the drummer, who is left to explore various time measures and play around the rhythms.

This album displays new facets of Dabrowski´s phenomenal trumpet technique and bravado, which keep expanding from album to album, constantly reaching new artistic peaks. He emerges steadfastly as one of the top young trumpeters in Europe if not worldwide. This combined with his phenomenal compositional qualities makes him superstar material, which hopefully won´t be wasted.

The level of interplay demonstrated on this album is also worthy of the listener´s attention, as such telepathic encounters are few and far between. There is a multilayered interplay present here, first between the two horn players, then between the rhythm section and finally between all four musicians listening to each other attentively. There is also the wonderful balance between the freedom of expression and the creative discipline, which keeps everybody on track.

Overall this is another excellent album, which unites Dabrowski with superb partners, creating a quartet of the highest quality which plays beautifully crafted music. What else can we ask for?
---