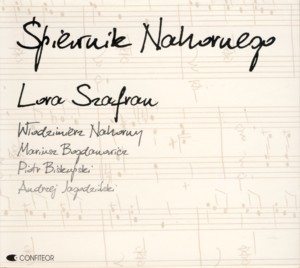 LORA SZAFRAN ~ SPIEWNIK NAHORNEGO
CONFITEOR 004 ~ POLAND ~ Jazz
Recorded: 2000
Released: 2003
---
Polish Jazz vocalist Lora Szafran

Find albums by this artist

is active on the local scene since the mid 1980s, when she graduated from the Katowice Music Academy. She sings Jazz but is also active on the mainstream Polish popular music market. This is her sixth album as a leader and it is dedicated to songs composed by the legendary Polish Jazz pianist / saxophonist / composer Wlodzimierz Nahorny

Find albums by this artist

, who is also known as the author of popular evergreens. The album includes twelve songs composed by Nahorny, with lyrics (in Polish) by some of top Polish lyricists. Szafran is accompanied by a trio which includes Nahorny on piano with bassist Mariusz Bogdanowicz

Find albums by this artist

and drummer Piotr Biskupski

Find albums by this artist

and a string sextet, with string arrangements by Andrzej Jagodzinski

Find albums by this artist

and Krzysztof Herdzin

Find albums by this artist

.

The album is kept in the classic mainstream Jazz tradition, performed spotlessly and with flair by all participants. Nahorny´s music is timeless and remains fresh and beautiful in complete disregard of passing fads and fashions. His compositions are as good as any American standards. The intelligent lyrics are a painful remainder that song´s lyrics are supposed to tell a story in an intelligent way, as they do here in complete contrast to today´s monstrosities called songs.

Szafran sings perfectly and superbly, with her charming mannerisms and vocal tricks, which she manages to use as effectively as always. She is able to pronounce every word clearly and accurately, with feeling and obvious sentiment to the context, an art that seems to be lost completely these days. Her warm and round voice and professional finesse are irresistible. The interplay between her and the trio is always impeccable, which turns the entire recording into a musical love affair. Nahorny and the rhythm section are of course a living example of knights in shining armor.

This is an "old fashioned" album, but in spite of that often misused classification it sounds fresh and alive in spite of its delicacy, fragility and sophistication. I must be old fashioned myself, as this stuff simply melts my heart.
---