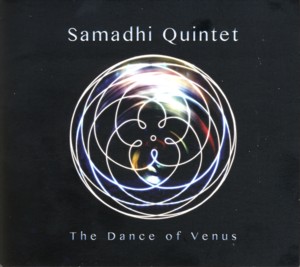 SAMADHI QUINTET ~ THE DANCE OF VENUS
F-IRE 81 (Barcode: 5060092198103) ~ UK ~ Jazz
Recorded: 2014
Released: 2015
---
This is the debut album by the British Jazz ensemble called Samadhi Quintet

Find albums by this artist

, led by drummer / composer Sam Gardner

Find albums by this artist

, which also includes Polish (resident in UK) saxophonist Krzysztof Urbanski

Find albums by this artist

, pianist Dominic J. Marshall

Find albums by this artist

, bassist Sam Vicary

Find albums by this artist

and percussionist Sam Bell

Find albums by this artist

. The album presents eight compositions, seven of which are originals composed by the leader and one is a contemporary Pop song.

From the very start of this album it is immediately noticeable that although this is a modern mainstream Jazz, there is something very different here, which of course turns out to be the rhythmic approach used herein, which completely deserts the regular Jazz meters and dances around a utterly insane mixture of odd meters, originating in Latin and Indian patterns, which can be very confusing to a novice listener. The fact that the entire quintet is able to work within this unusual rhythmic environment is simply amazing, as listening to it is hard enough, not to mention playing it, which surely is challenging enough.

But once the listener gets into the unusual rhythms and flows with them, he is about to discover a world of beautiful melodic themes, which are enchanting and lyrical. The superbly created tension between the melodic layer and the rhythmic layer on this album is truly marvelous and qualifies as some of the most interesting approaches and explorations I came across since quite a while.

Both Urbanski and Marshall perform splendidly throughout, the saxophonist weaving his seductive sweetness and the pianist sending waves of tonal streams floating, both of them managing to keep perfectly in synch with the rhythm section banging its outlandish punctuations. The bassist, who serves as the mediator between the melodic parts and the rhythmic barrage, is the "responsible grownup", keeping the whole fête swinging.

In short this is one hell of a debut album, which not only presents some great music but also manages to surprise, innovate and make your body do some mighty strange moves, which surely does not happen every day. Play it again, Sam!
---