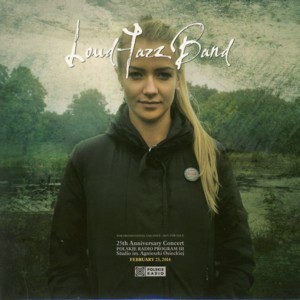 LOUD JAZZ BAND ~ 25TH ANNIVERSARY CONCERT
LJB 009 ~ POLAND ~ Jazz-Rock Fusion
Recorded: 2014
Released: 2015
---
As the title suggests, this is a live recording celebrating the 25th anniversary of the multi-national Jazz-Rock Fusion ensemble called Loud Jazz Band

Find albums by this artist

, founded and led by guitarist / composer Miroslaw Kaczmarczyk

Find albums by this artist

. The octet lineup, which is captured on this video, includes also trombonist Erik Johannessen

Find albums by this artist

, saxophonist Wojciech Staroniewicz

Find albums by this artist

, pianist Pawel Kaczmarczyk

Find albums by this artist

, bassist Sebastian Haugen

Find albums by this artist

, drummer Ivan Makedonov

Find albums by this artist

, percussionist Maciej Ostromecki

Find albums by this artist

and keyboardist Piotr Iwicki

Find albums by this artist

. The concert was filmed at the Polish Radio studios in Warsaw and captures the ensemble performing nine original compositions, all by the leader.

The music of the Loud Jazz Band is a highly polished, melodic and mostly lyrical Jazz-Rock Fusion, with a well balanced ratio between the more Jazz oriented brass solos and more Rock oriented guitar and keyboard solos, supported by a superbly slick and well oiled rhythm section. The compositions get expanded treatments, which allow for all the ensemble members to show off their chops. The band is obviously one of the best of its kind in Europe, definitely more ambitious and sophisticated than most. It is a real pleasure to watch and hear this band in action, especially in view of the superb solos performed in the duration, which spice the proceedings enormously.

On this particular recording the internal balance of the band is somewhat shifted towards Jazz with the addition of the Polish piano superstar Pawel Kaczmarczyk, who proverbially "steals the show" with his extraordinary performances. Of course his presence adds a new level to the entire sound and well being of the ensemble, but his star quality is a magnet of attention. It is quite surprising to hear Kaczmarczyk to handle Jazz-Rock Fusion so well, albeit the fact that this is not his typical milieu.

As good as the music of Loud Jazz Band is the actual video is truly disappointing, almost amateurish with a inadequate camera work, which is limited to an open shot view of the band and some primitive close-ups. The sound quality is, however excellent, clear and well balanced. As a result the visual part of the DVD is in fact redundant (as happens in most music DVDs) and this material holds water based on its audible ingredient alone. For Jazz-Rock Fusion fans this is a highly recommended piece of excellent music, which yields nothing but pure delight!
---