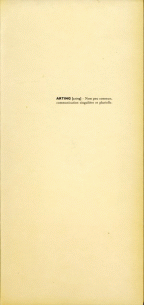 WOJCIECH KONIKIEWICZ ~ ANOTHER FORM OF COMMUNICATION
ARTING ~ POLAND ~ Jazz
Recorded: 1993
Released: 1993
---
This is a beautiful and sadly little known album by the Polish Jazz pianist / composer Wojciech Konikiewicz

Find albums by this artist

. The album presents six original compositions by Konikiewicz, performed on piano solo (the two opening tracks) and in a trio setting (the remaining four tracks, recorded live) with the wonderful late bassist Zbigniew Wegehaupt

Find albums by this artist

and drummer Cezary Konrad

Find albums by this artist

, recorded at the Warsaw Music University. The album was released first as an exquisitely packaged promotional gift by the prestigious Paris based communication and design firm Arting, which is today a highly sought-after collector´s item, and which I was honored to receive from the Artist himself. Later on it was released commercially in Poland by Koch, but is of course completely gone from the market.

The album presents the gentle / lyrical side of Konikiewicz, who weaves beautifully melodic themes and improvises at length, slowly developing his ideas and exposing fragment after of his inner soul to the listener. The album completely lacks any attempts of flashy display of technique or self-centered showmanship, and is simply all about the music and its sound and feeling.

The trio tracks are a superb example of the classic piano trio format, with all three musicians listening to each other with obvious sympathy and respect. Personally I feel that these tracks are also some of the most beautiful pieces Wegehaupt ever recorded (and I know all of his work intimately), with fabulously crafted solos, full of finesse and emotion, being another added value of this project. He was definitely, in the words of Konikiewicz, a great poet of the bass.

In retrospect I can say that the fact that this music in unavailable to the Polish Jazz connoisseur is a crying shame. All those forgotten albums truly deserve a proper reissue, as they are beyond a shadow of a doubt, part of the Polish Jazz legacy, which deserves to be cherished and preserved. It today´s "one minute attention span" world, pieces of art like this one are simply islands of sanity.
---