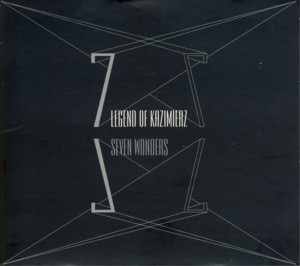 LEGEND OF KAZIMIERZ ~ SEVEN WONDERS
NOT ON LABEL ~ POLAND ~ Jazz-World Fusion
Recorded: 2013
Released: 2013
---
This is the debut album by young Polish Klezmer Jazz sextet Legend Of Kazimierz

Find albums by this artist

, which hails from Krakow, as do many other similar ensembles, and comprises of bassist Mateusz Frankiewicz

Find albums by this artist

, accordionist Pawel Iwan

Find albums by this artist

, violinist Tomasz Pawlak

Find albums by this artist

, clarinetist / flautist Mateusz Chmiel

Find albums by this artist

, percussionist Tomasz Czaderski

Find albums by this artist

and guitarist Jacek Dlugosz

Find albums by this artist

. A few other musicians participate as guests. The album presents eight tunes, three of which are originals composed by Frankiewicz and Chmiel, two are traditional Jewish melodies, and another two are traditional Bulgarian melodies and finally the last one is by Jerry Bock

Find albums by this artist

(the composer of the "Fiddler On The Roof" score).

To be perfectly clear the ensemble´s music has very little, if anything at all, to do with Klezmer music. The fact that they use the name of the old Jewish quarter of Krakow (Kazimierz) as part of their name is definitely misleading. However, they show some influence of both Ashkenazi and Sephardic Jewish music, but also a lot of Balkan and Middle Eastern influences. So the whole Jewish / Klezmer "shpiel" is somewhat stretched, but entirely forgiven in view of the fact that they do play some excellent music. In fact they are one of the best Jazz-World Music Fusion bands active in Poland judging by the strength of this album.

All the tunes are splendidly arranged and the ensemble very skillfully utilizes the entire palette of instruments played by its members. The overall atmosphere of the music is "oriental", with mystical Middle Eastern reverberations of the flute and violin swinging like enchanted cobras, archetypal darbuka rolls and layers of accordion, which wrap the entire bazaar of sounds like round pita bread holding falafel balls. This music not only sounds oriental, but almost "smells" oriental, and would be perfect as a soundtrack of a movie which takes place in a Mediterranean port.

Of course these lads can play and the level of the performance is nothing short of amazing. But as ensembles go, it´s not the individual stars that make the firmament and this ensemble sure knows how to put their collective skills together, to create a whole which is much stronger than the sum of its parts.

In short this is one ass-kicking Jazz-World Music Fusion album, which deserves to be heard by as many listeners around the globe as possible. I can hardly imagine anybody not liking this music, as it is as enchanting as a Gypsy queen, or a Flamenco dancer, or a belly dancer, or a snake charmer… pick one or all… Fans of World Music should not miss this one under no circumstances – you have been warned I say!
---