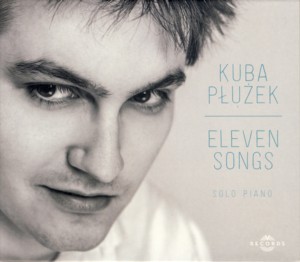 KUBA PLUZEK ~ ELEVEN SONGS
V 007 (Barcode: 5903111377069) ~ POLAND ~ Jazz
Recorded: 2014
Released: 2015
---
This is the second album by young Polish Jazz pianist / composer Kuba Pluzek

Find albums by this artist

and his first solo piano outing. It presents, as the title suggests, eleven "songs", or rather compositions, treated in a very melodic way, two of which are his own compositions and the remaining nine are by Polish (Zbigniew Wegehaupt

Find albums by this artist

, Andrzej Kurylewicz

Find albums by this artist

) and other (Brad Mehldau

Find albums by this artist

, Michel Petrucciani

Find albums by this artist

, Dave Holland

Find albums by this artist

) Jazz musicians / composers or by non-Jazz cinematic composers (Hans Zimmer

Find albums by this artist

, Luis Bacalov

Find albums by this artist

).

From the very first notes of this album it becomes immediately apparent that Pluzek justifies all the high hopes expressed as a result of his debut album a couple of years earlier. His technique and touch are completely fluid and seamless, which is quite exceptional at his age. His choice of material seems to be no less intelligent and sophisticated than the actual performance, creating a roundness and sense of continuity, which only a few solo piano albums are able to achieve.

The piano playing style Pluzek utilizes on this album is based on extended continuous left hand arpeggios and the right hand stating the melody lines and chord progressions, which is somewhat similar to early Keith Jarrett

Find albums by this artist

solo piano work, and is equally effective. His ability to play around with the tempi and producing a wide range of dynamic shifts is also impressive.

But beyond the technical facets of his playing, Pluzek expresses a beautiful lyricism and romance, which only the greatest piano players are blessed with. His interpretation of the classic ballad "Danny Boy", which has been performed countless times before, is a case in point. The entire experience of listening to this album is full of straightforward joy of music and of life, a rare moment of pure pleasure, which leaves the listener relaxed and deeply satisfied once the journey is over.

Although this is one of the first Polish Jazz albums of 2015, it is already pretty sure to become one of the contenders of the annual competition of top albums for this year. Definitely a commendable successor to the exceptional debut, this album is everything a piano solo album is supposed to be – a spiritual experience!
---