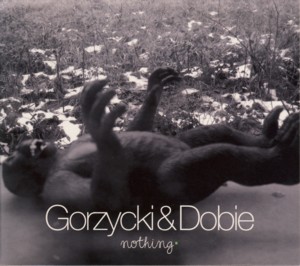 GORZYCKI & DOBIE ~ NOTHING
REQUIEM 086 ~ POLAND ~ Jazz
Recorded: 2014
Released: 2015
---
This is the third and last part in a triptych of duo recordings by Polish drummer / composer Rafal Gorzycki

Find albums by this artist

(see his duo albums with Sebastian Gruchot

Find albums by this artist

and Kamil Pater

Find albums by this artist

), this time with British guitarist / composer Jonathan Dobie

Find albums by this artist

. The album presents seven original pieces co-composed by Gorzycki and Dobie.

In the last decade or so Gorzycki firmly established his position on the Polish scene as one of the most individual voices, amalgamating Jazz with contemporary Classical music, electronic and ambient influences and above all standing firmly as a symbol of uncompromising music creation. His work as a leader and member of such forward thinking ensembles as Sing Sing Penelope

Find albums by this artist

or Ecstasy Project

Find albums by this artist

and his individual projects in duo, trio and quartet settings are all exceptional examples of individuality and excellence.

In many respects this duo album is a culmination of Gorzycki´s modus operandi, which presents a minimalistic and fragmented approach to melody and harmony, which often hints at some musical statements rather then expressing them in full, leaving it to the listener to connect the dots. Dobie is obviously an ideal partner and cohort in such circumstances, playing short fragments of rapid guitar fire, which reminds early improvising electric guitarists such as John McLaughlin

Find albums by this artist

or Jimmy Hendrix

Find albums by this artist

and utilizing ancient fuzz and other sound devices. This retro sound combined with the modern approach creates an absolute stunning effect.

Of course, as in every other duo album, the interplay between the two partners is the essential ingredient of the entire project. Gorzycki´s seemingly endless palette of drums and percussion instruments and Dobie´s guitar pyrotechnics are perfectly suited for each other and their dialogs reach telepathic levels.

I am very glad that Gorzycki manages finally to achieve at least some recognition by the Polish musical "establishment", after years of being ignored and neglected beyond the small circle of his musical partners. Hopefully this recognition will enable him to create even more of his groundbreaking projects, to the delight of old and new fans. Visiting his personal web site will allow a glimpse at his huge achievements so far. This album is a must have for the many fans of the alternative Polish Jazz / contemporary music scene and is of course is highly recommended.
---