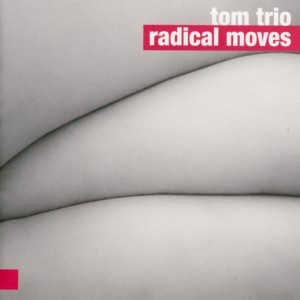 TOMASZ DABROWSKI / TOM TRIO ~ RADICAL MOVES
FOR TUNE 0045 (Barcode: 5902768701517) ~ POLAND ~ Jazz
Recorded: 2013
Released: 2014
---
This is the second album by the Tom Trio

Find albums by this artist

, led by Polish (resident in Denmark) Jazz trumpeter Tomasz Dabrowski

Find albums by this artist

and including Danish bassist Nils Bo Davidsen

Find albums by this artist

and drummer Anders Mogensen

Find albums by this artist

. The music consists of ten original compositions, all by Dabrowski, and it was recorded at the fabulous Studio Tokarnia and engineered by Jan Smoczynski

Find albums by this artist

, with excellent sonic results.

Contrary to the album´s ominous title, this album does not offer any radical developments as such, and is consistent with the path Dabrowski follows since a few years to achieve his personal voice as a trumpeter and composer, which has been quite remarkable. There is no doubt that he is today not only one of the top Polish Jazz trumpeters, but also one of top European trumpeters, a position he earned by numerous recordings in stylistically diverse setups, always delivering a top notch contribution.

Musically Dabrowski seems to be most comfortable in the "organized Free" environment, when his statements have a solid melodic / harmonic basis underneath, which allows him to stretch his improvisations with flare and passion. The decision to present his music in the intimate trio setting is probably motivated by the fact that the trio allows the most concise ensemble solution enabling the closest interplay possible between the participants. This music is totally dependent on mutual exchange and support and would fail to achieve anything if such complete synthesis did not happen. Fortunately it does happen, from start to finish, elevating the music to a highly aesthetic plane. In spite of the nakedness of the trio setting, the overall effect of the trio is so eventful and intense, that it creates an illusion of a much larger ensemble at work.

The role of the rhythm section in this type of music is radically different from the traditional position, which is to support the leader harmonically and rhythmically without getting involved with his solo parts. The music presented here is fully co-created by all three musicians, on equal footing. Dabrowski is naturally the most distinctive voice, playing the lead instrument, but everything that is happening in parallel to his playing as equally important each and very step of the way.

People familiar with Dabrowski´s music are used by now to the incredible high standards he sets for himself, pushing them ever forward. This album is another step in the right direction, displaying signs of maturity and reflection rather than youthful enthusiasm. This is perhaps the most contemplative music he ever attempted, offering new vistas of his inner self as composer and performer. Of course music of such complexity and emotional weight requires attentive and often repetitive listening to be fully absorbed and appreciated. Connoisseurs of modern Free Form, but coherent Jazz will find this music fully and beautifully rewarding.
---