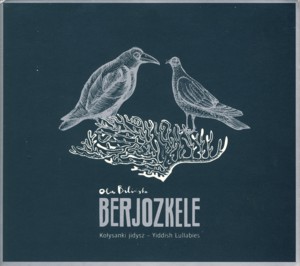 OLA BILINSKA ~ BERJOZKELE
PRIVATE EDITION ~ POLAND ~ Jazz-World Fusion
Recorded: 2014
Released: 2014
---
This is the debut solo album by Polish vocalist / multi-instrumentalist / composer Ola Bilinska

Find albums by this artist

, who also leads the group Babadag

Find albums by this artist

, which released a debut album in 2012. On this album she is accompanied by bassist Michal Moniuszko

Find albums by this artist

, trumpeter Kacper Szroeder

Find albums by this artist

and two veterans of the Polish Jewish revival: clarinetist Mikolaj Trzaska

Find albums by this artist

and guitarist Raphael Roginski

Find albums by this artist

. The album presents ten renewed and rearranged Yiddish lullabies, which were created by Jewish poets and composers or are of unknown traditional Jewish origins.

Bilinska presents a fresh and unconventional approach to this material, which usually is treated in a very traditional way. She delivers these songs in the Yiddish language, as originally created, but her clearly non-Yiddish accent, the strong and clear timbre of her voice and the ambient instrumental arrangements take these songs to a completely new platform, which is fresh and surprisingly invigorated. The overall effect of this approach gives a new life to these songs, transforming them, as if in a time machine, a century or so forward in time. Of course the Yiddish language is not exactly thriving today, but an effort is made to preserve its cultural treasures, which are vast indeed, and this project is one of such noteworthy efforts.

This album is just one of the many manifestations of the renaissance of the Jewish culture in Poland, which is enjoying an immense popularity. Since Bilinska managed to create a valid contemporary interpretation of these songs, which have been a part of the pre-WWII Jewish reality, which is sadly no longer with us, she deserves our appreciation and gratitude, both for her talent and her courage to undertake such difficult task. This is definitely worth investigation!
---