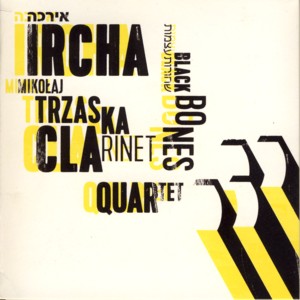 IRCHA ~ BLACK BONES
KILOGRAM 031 (Barcode: 5907577284305) ~ POLAND ~ Jazz-World Fusion
Recorded: 2013
Released: 2014
---
This is the fourth album by the iconic Polish clarinet quartet Ircha

Find albums by this artist

, led by Mikolaj Trzaska

Find albums by this artist

and also including Michal Gorczynski

Find albums by this artist

, Pawel Szamburski

Find albums by this artist

and Waclaw Zimpel

Find albums by this artist

. These four players are all ensemble leaders on they own right and are among the undisputed leaders of the Avant-Garde Polish Jazz / Improvised Music scene in the last decade. But above all they are superbly talented musicians and creative personalities, who turn Ircha into a supergroup of legendary proportions. This album is in fact a twin album, not a 2 CD album, but two separately packaged albums recorded just three months apart, one in a studio and the other one live, presenting almost completely different musical material.

The studio album presents thirteen pieces (collected into ten tracks), some traditional Sephardic and Hasidic Jewish songs, others composed by Trzaska and yet others composed by the quartet. The live album presents also thirteen pieces (collected into eight tracks), with just a few of them being the same ones as those on the studio album, also being traditional Jewish songs, others composed by Trzaska or by the quartet. The live album was recorded at the Falenica (a Warsaw suburb) train station, during a concert I had the immense pleasure to attend and meet Mikolaj and the quartet in person for the first time. My warm applause is therefore captured for posterity on that album.

Although including only clarinets, Ircha is capable of producing an almost symphonic wall of sound, which can be immensely impressive. The various clarinets cover a wide range of the audible spectrum and compliment each other beautifully. The overall sound produced by Ircha is therefore a completely unique and incomparable sonic experience, which combined with the deeply spiritual music, has an overwhelming impression on the listener, reaching deeply into the soul and completely transfixing the mind.

Of course the music of Ircha is also a symbol of the rebirth of Jewish music in Poland, where it originally existed for almost a millennium, before being eradicated by the Holocaust. The fact that Polish musicians, regardless of the fact if they have a Jewish background or not, take traditional Jewish music into the next millennium, and into a new dimension, is truly astounding and uplifting. The entire phenomenon, which involves a surprisingly large group of Polish musicians, many of them from the Jazz idiom, is simply miraculous. There is no doubt that Ircha is amongst the cream of the crop of these musicians / ensembles, and perhaps the most important amongst them aesthetically and artistically.

The music of Ircha is a bridge between styles and cultures, freedom and discipline, emotion and intellect. Such a complex arsenal of stimuli is able to reach a diverse public, from many different backgrounds, ages and personal tastes, and this is its true forte. This is why each and every listener of their music receives a different input and generates a different reaction; exactly what great Art is all about.
---