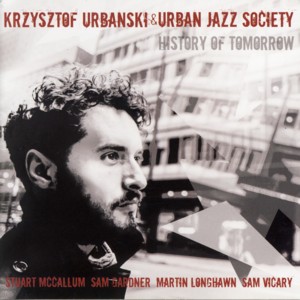 KRZYSZTOF URBANSKI ~ HISTORY OF TOMORROW
NOT ON LABEL (Barcode: 5908254159497) ~ POLAND ~ Jazz
Recorded: 2014
Released: 2014
---
This is the second album by Polish Jazz saxophonist / composer Krzysztof Urbanski

Find albums by this artist

. Following the release of his excellent debut album in 2000, Urbanski moved to UK, where he now resides, and where this album was recorded with his current quintet called Urban Jazz Society

Find albums by this artist

, which includes guitarist Stuart McCallum

Find albums by this artist

, keyboardist Martin Longhawn

Find albums by this artist

, bassist Sam Vicary

Find albums by this artist

and drummer Sam Gardner

Find albums by this artist

. The album presents eight original compositions (one of which is a three part suite), seven of which were composed by Urbanski and one was co-composed by Urbanski and Longhawn.

The music is an excellent example of contemporary mainstream Jazz, which is based on clearly defined melodic themes and harmonic structures, but brings the mainstream idiom up to date with interesting arrangements and splendid execution. Urbanski lost some of his smoothness and melancholy, which were very evident on the debut album, and moved more into proficiency and versatility as a saxophonist. His solos on this album emphasize his development as an instrumentalist and his acquired skills. The rest of his crew on this album are all highly professional players, working together to achieve a group sound and support the leader / composer in his quest to present his music at the best possible way.

Both McCallum and Longhawn play several lengthy solos, which are all quite impressive and exciting. The rhythm section skillfully carries the music forward with Vicary being the anchor and time keeper and Gardner ornamenting the grooves. The resulting group effort is overall successful and the resulting music is a solid mainstream Jazz pleasant on the ear and accessible to most Jazz fans.
---