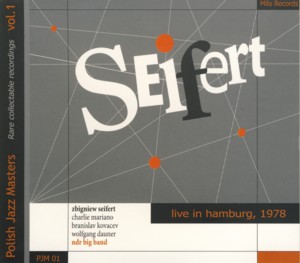 ZBIGNIEW SEIFERT ~ LIVE IN HAMBURG 1978
MILO 01 (Barcode: 5907513047285) ~ POLAND ~ Jazz-Rock-World Fusion
Recorded: 1978
Released: 2006
---
This is a sensational live recording by Polish Jazz violinist / composer Zbigniew Seifert

Find albums by this artist

and his quartet, which includes American (resident in Germany) saxophonist Charlie Mariano

Find albums by this artist

, German pianist Wolfgang Dauner

Find albums by this artist

and Yugoslav (also resident in Germany) drummer Branislav Kovacev

Find albums by this artist

, accompanied by the NDR Big Band

Find albums by this artist

from Hamburg. The album comprises of five tracks, which are simply named "Hamaburg 1" to "Hamaburg 5". The discographical data, such as exact place and date of recording and composition credits are omitted and the album looks and feels like a bootleg, although it is openly sold in Poland.

This music was recorded about a year before Seifert´s untimely death as a victim of cancer. In spite of his terrible sufferings and ordeals related to his rapidly advancing illness, he was at an absolute peak of his musical ability, as this recording plainly demonstrates. He plays vigorously and with incredible passion, and his lengthy solos on this album are among his best ever. Supported by the wonderful quartet and accompanied by the best European Big Band, Seifert is able to immerse himself completely in the music, without any limitations. The result reflects his great love of life and music, which he tried to pursue until the very last moments of his life.

Of course Mariano, Dauner and Kovacev, who were among the finest musicians on the European scene at the time, as well as the outstanding NDR Big Band, are all performing splendidly as well. Stylistically the music includes many elements of Jazz-Rock Fusion and World Music influences, an amalgam that characterized Seifert´s late period. However, his solos are still characterized by the influence of John Coltrane´s legacy, which was the singular most important inspiration on Seifert´s music.

The historic importance of this album is simply invaluable, especially in view of the sadly very limited recorded legacy of Seifert´s works. Seifert managed to record only four albums as a leader during his tragically short lifetime, and the posthumously released material is of secondary importance so far. There are many hours of unreleased music recorded by Seifert waiting to be released, and hopefully those will see the light of day at some stage.

For Polish Jazz fans this album is an absolute must of course, but listeners interested in Jazz violin and anybody who is able to appreciate some of the most moving moments offered within the Jazz idiom should also try to get their hands on this gem ASAP. Absolutely brilliant stuff!
---