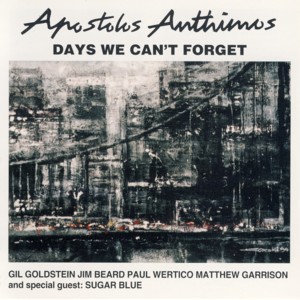 APOSTOLIS ANTHIMOS ~ DAYS WE CAN`T FORGET
GOWI 17 (Barcode: 786497094929) ~ POLAND ~ Jazz-Rock Fusion
Recorded: 1993
- 1994
Released: 1994
---
This is the debut album as a leader by Polish (of Greek origin) guitarist / composer Apostolis Anthimos

Find albums by this artist

. The album (except for one track) was recorded in NY and features a dreamy lineup of well known American Fusion players: keyboardists Gil Goldstein

Find albums by this artist

and Jim Beard

Find albums by this artist

, bassist Matthew Garrison

Find albums by this artist

and drummer Paul Wertico

Find albums by this artist

. Harmonica player Sugar Blue

Find albums by this artist

guests on one track. The album consists of eight tracks, five of which are original compositions by Anthimos and three are Jazz standards.

The music hides no surprises and reveals a very well played Fusion, with many excellent solos and a nice melodic flow. It is quite different stylistically from what Anthimos played with SBB

Find albums by this artist

, which is more Blues and Rock oriented. It is really great to hear a different, Jazzier Anthimos, more relaxed and obviously happy with the result. Also his skills as a composer are fully exposed here, showing that he is perfectly capable of weaving nice, elegant tunes.

After years of standing in the limelight of SBB, Anthimos finally proves that he is capable of playing his own music and following his heart. This album lost nothing of its charm and beauty over time and still sounds great a couple of decades after it was originally released. For Polish Fusion fans this is an absolute must, but basically any Fusion fan anywhere on this planet should enjoy this album in full.
---