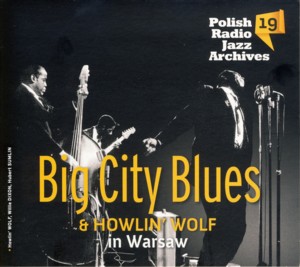 BIG CITY BLUES / HOWLIN` WOLF ~ POLISH RADIO JAZZ ARCHIVES VOL.19
POLSKIE RADIO 1871 (Barcode: 5907812248710) ~ USA ~ Blues
Recorded: 1964
Released: 2015
---
This is the nineteenth installment in the new series of releases initiated by the Polish Radio, which presents archive Jazz recordings. Radio recordings are always a fabulous source of remarkable material, and as far as Polish Jazz history is concerned, the Polish Radio, which was a state monopoly for 45 years, recorded over time a plethora of invaluable material, which apart from the albums released by the Polskie Nagrania record company (also a state monopoly), is the only available additional source of Polish Jazz recordings. For many years Polish Radio recorded concerts presented during Poland´s most important Jazz venues, including the annual Jazz Jamboree Festival and many other festivals as well.

This album is the first to feature Blues music rather than Jazz, but considering the proximity of these two genres and their historic and stylistic links this seems to be perfectly acceptable. It presents a live recording of a concert, which was a part of the seventh edition of the Jazz Jamboree Festival, which took place in 1964. The band, called Big City Blues

Find albums by this artist

(the City being of course Chicago, the cradle of electric Blues), which included legendary Blues figures such as bassist / vocalist Willie Dixon

Find albums by this artist

, guitarist Hubert Sumlin

Find albums by this artist

, pianist / vocalist Sunnyland Slim

Find albums by this artist

(a.k.a. Albert Luandrew

Find albums by this artist

) and drummer James Clifton

Find albums by this artist

is joined by vocalist / guitarist / harmonica player Howlin` Wolf

Find albums by this artist

(a.k.a. Chester Arthur Barnett

Find albums by this artist

). Together the group represented some of the finest American electric Blues of the mid-1960s, which influenced the renaissance of the Blues movement, first in UK and later all over Europe. Dixon and Wolf were of course responsible for dozens of Blues standards, which are still a part of the repertoire used by Blues musicians today, fifty years later.

The album presents thirteen tracks (plus a spoken intro), many of which are true Blues Classics, well known by countless recordings by Blues and Rock artists later on. Dixon, Wolf and Slim take turns in the vocal department and Sumlin delivers some superb guitar solos, which later will be copied by hordes of young guitarist the world over. Overall the performance is highly spirited and presents a wonderful authentic glimpse at the peak of the original electric Blues. Needless to say, many young Polish Blues musicians / enthusiasts have been deeply influenced by this concert, which shaped their future careers.

The album suffers from some sonic quality problems, which obviously could not have been solved by the restoration process, but considering the historic importance of the music, all is forgiven. As usual with this series, which is very reasonably priced, I miss the presence of "in depth" liner notes / booklet, which should convey the circumstances at which this music was recorded and its importance to the development of Blues in Poland. Nevertheless this is an essential piece of Blues history which every Blues fan will surely consider an absolute must.
---