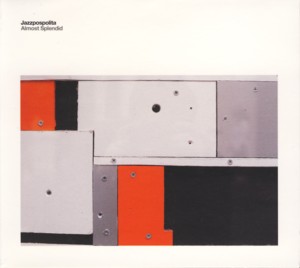 JAZZPOSPOLITA ~ ALMOST SPLENDID
AMPERSAND 20 (Barcode: 5906485781005) ~ POLAND ~ Jazz-Rock Fusion
Recorded: 2010
Released: 2010
---
This is the debut album by Polish group Jazzpospolita

Find albums by this artist

, which consists of guitarist Michal Przerwa-Tetmajer

Find albums by this artist

, keyboardist Michal Zaleski

Find albums by this artist

, bassist Stefan Nowakowski

Find albums by this artist

and drummer Wojciech Oleksiak

Find albums by this artist

. The album presents nine original compositions (ten tracks with one tune repeated as a remix), all assumedly co-composed by all four band members.

As it sometimes happens, I listened to this album after being already familiar with the band´s later work, therefore I can only imagine what my reaction would have been if I listened to it at the time of its release a few years earlier. Speculations aside, it still is a pretty amazing piece of music and a stunning debut. Arriving on such a busy scene as the Polish Jazz and alternative Rock with a spectacular, fresh and innovative album, which is completely different from almost anything that is already there, is truly remarkable.

This album defines the musical "language", which the group follows since its inception, which is quite difficult to define verbally. It is a mixture of melodic Ambient Music with Jazz improvisations, Rock rhythmic patterns and alternative Rock sonorities, which sounds simply different from anything else. For people desperately in need of known references from the past, it is somewhat comparable to the music released on the legendary "Buddha Bar" series, with many of the Chill-out and Lounge elements present but with the World Music references replaced by Jazzier vibes.

Regardless of the similarities, which might serve as points of reference, this music is fresh, exciting and sophisticated, which by itself is already quite rare. Combined with delicate melodic themes and first-class execution this album is by all means a very important step on the local music scene, proving that excellent music can be accessible to a large population of listeners, without even a hint of compromise and selling out.

In the last few days I have listened to this album repeatedly and I´m pretty sure it´s there to stay on my short playlist for a while. Anybody not familiar with Jazzpospolita should definitely seek this little gem out ASAP and follow with their later albums. As far as I am concerned there is absolutely no "almost" involved herein; Splendid indeed!
---